With a newborn in the home a travel system is usually the best stroller choice. Travel systems offer easy to connect solutions that pair an infant car seat with a stroller and vehicle base. The best travel system allows you to easily move a sleeping baby from the car to the stroller or into the house without waking them up.
Best Travel Systems of 2021 – Ratings and Reviews
Travel systems are limited because the baby will outgrow the infant car seat eventually. The stroller components can last for several years but you will need new car seats as your baby grows. For multi-car families the travel systems require additional components like a separate car seat or base to use in the other car.
Still, the luxury of a travel system is exceptional. Imagine being out on a cold winter day when your sleeping baby is in the backseat but you have to go into the store and they are coming with you. Instead of waking up your little one and carrying them into the store all you have to do is click the car seat out of the base and into the stroller and off you go. Parents love the practicality of a travel system.
Our top rated travel systems for newborn babies are below.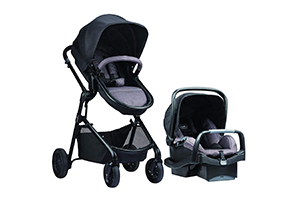 Parents rave about the Pivot Modular Travel System from Evenflo. It pairs a Safemax rear-facing infant car seat with a lightweight, durable stroller and base. The car seat clicks easily into the stroller and the stay-in-car base so that napping babies do not wake up. Shoppers can choose from four different colors. Evenflo is a trusted brand that has been outfitting parents with high-quality baby gear for years and this product is no different.
The stroller has a four wheel design with large wheels in the back that make it easier to navigate around obstacles in your path. The large, cruiser tires keep this stroller moving while also delivering a smooth ride to your baby. The stroller has a small, removable snack tray with cupholder in the front and an oversized storage basket underneath.
This travel system uses the SafeMax Infant Car Seat from Evenflo. This car seat is highly rated and well regarded as a safe, easy way to transport your newborn baby. It grows along with your baby by offering 4 harness height positions and 3 crotch buckle positions. The light, breathable fabric helps keep your baby comfortable all four seasons. The car seat has a rebound bar on it to improve safety.
Read more in our Full 2021 Review of the Evenflo Pivot Modular Travel System.
Pros
Breathable Fabric
Rebound Bar
Trusted Manufacturer
Cons
Small Canopy
Small Front Wheels
Wide Stroller Frame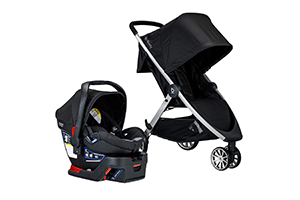 It is ok to pay a lot in life so long as you get a lot for it, and the Britax B-Lively Travel System absolutely delivers with a best-in-class quality stroller and car seat combo. The price tag on this system is not for the faint of heart, but if nothing is too good for your little one or you are looking to splurge on a luxurious gift for a new mom and dad this stroller is for you. This system is all encompassing with a stroller, car seat, and car seat base all included. It is available in nine colors but they are all quite dark and muted except for a nice red "Cardinal" color option.
Quality Britax Stroller
The stroller in this Britax travel system is strong and sturdy but also lightweight. The aluminum frame can take a beating without showing signs of wear and it folds up easily in seconds with just one hand. Parents like how the large canopy can completely cover and protect children from the elements outside. The cover is also ventilated to keep the stroller cool on hot days and let mom easily peek in to check on little ones. The stroller has a large storage basket that parents can uniquely access from the back or front of the stroller.
The car seat in this combo is the highly regarded B-Safe 35 Infant Car Seat. This car seat is rear facing and safely protects children weighing from 4 to 35 pounds. It is an especially comfortable car seat for children to rest in, and it has proprietary SafeCell technology crumple zones to absorb crash energy in case of an impact. This car seat also has extensive side impact protection that surrounds the baby's head, neck, and torso. Attaching the car seat to your vehicle is easy because the included base has a SafeCenter Latch system that makes it easy to secure and tighten.
Read more in our Full 2021 Review of the Britax B-Lively Travel System.
Pros
Lightweight Design
High Strength Car Seat
Stroller All Wheel Suspension
Cons
Premium Price
Limited Color Choices
No Cup Holders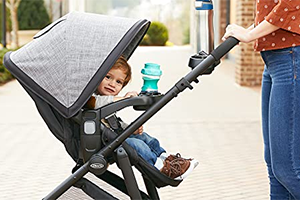 The Graco Modes Element Travel System pairs the popular Graco SnugRide 35 Lite LX Infant car seat with a basic, streamlined stroller to deliver a high-quality travel system that doesn't break the bank. The combo provides a car seat carrier, infant stroller, and toddler stroller all in one convenient package that evens folds easily into a self-standing, compact package for storage.
This stroller from Graco is very streamlined and open with a design that provides a comfortable, reclining seat and easy access to the large storage basket below. Additional storage is available in a rear parents tray and a front childs tray that both offer cupholders. The stroller has a nice window in the canopy so that parents can keep an eye on little ones. Spending a bit more money on the next level Graco stroller only adds a height adjustable seat, so this model does a great job balancing cost with feature set.
The included Graco SnugRide 35 Lite LX is a well rated car seat. Moms like that the car seat is lightweight at only about 7 lbs. It protects babies with a 5-point front-adjust harness and proprietary Graco ProtectPlus engineering. The car seat has a large canopy that rotates up over children to create a cozy sleep space. The car seat is rear-facing for infants up to 35 lbs. The travel system is available in nine attractive colors.
Read more in our Full 2021 Review of the Graco Modes Element Travel System.
Pros
Self Standing Fold
Extra Storage
Reliable Durability
Cons
Bumpy Stroller Ride
Basic Feature Set
No Bassinet Mode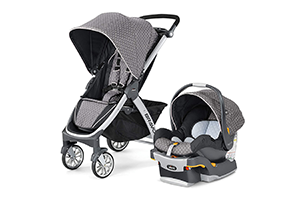 Parents love the great looking Bravo Trio Travel System from Chicco. It includes the sturdy Bravo stroller along with the safe Key Fit 30 Infant car seat and base. This travel system is a premium product that is expensive but still costs quite a bit less than other leading high-end models. It comes in four attractive, patterned designs that help you find it in a crowd.
The best part of this combo is the Bravo stroller. It is a highly maneuverable, aluminum stroller with big 7 inch wheels up front and even larger 9 inch wheels in the back. Those big wheels keep this stroller on the move and make for a more comfortable ride for sleeping babies. The well built stroller is sturdy and can accommodate children up to 50 lbs. A rear, zippered parent tray with cup holders offers storage as does a large bin in the bottom that is easily accessible from the rear. The stroller is free standing when folded.
The stroller accepts all KeyFit and Fit2 car seats, and one of the best choices is to pair it with this KeyFit 30 infant car seat. The KeyFit30 is a top selling, comfortable car seat that is easy to install. The car seat has a 5-point safety harness that tightens quickly and safely with easy pull. There are infant inserts included to help perfectly position newborn babies. The KeyFit30 weighs about 10 lbs and is designed for infants up to 30 lbs.
Read more in our Full 2021 Review of the Chicco Bravo Trio travel system.
Pros
Free Standing When Folded
Maneuverable Stroller
Easy Click and Go
Cons
Heavy
No Suspension
No Child's Tray or Cupholder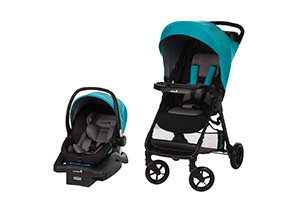 Our top rated budget buy is the Safety 1st Smooth Ride Travel System. For a reasonable price it pairs a stable, sturdy stroller with the onBoard 35 Infant Car Seat to deliver a safe ride for your baby. Simple life and fold collapse makes the stroller compact and easy to store.
The four wheel stroller provides your newborn with a smooth ride on streets and sidewalks. Oversized canopy provides coverage from the sun or rain and helps babies snuggle in to nap. Easy braking systems let parents park the stroller and keep it in place. The car seat connects to the stroller in one easy click with QuickClick.
The onBoard 35 Infant Car Seat offers a reclined body position for your child to give them a good, safe fit up to 35 lbs. A base for easily attaching the car seat to your car is also included.
Pros
Smart Budget Buy
Lightweight
Easy to Clean
Cons
Narrow
No Suspension
Short Latch Buckle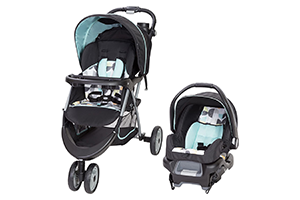 Parents looking for a cheap travel system should consider the EZ Ride 35 Travel System from Baby Trend. This travel system pairs a reliable stroller with the Ally 35 Infant Car Seat to build an attractive, comfortable option for newborn babies. It lacks some of the features found in more expensive models, but delivers a quality travel system at a low price.
The stroller has a 3-wheel jogger design that makes it easy to turn and maneuver. A shock suspension on the front dual-wheels provides newborn babies a bit of relief when going over bumps in the road. The rear handle is height adjustable to give tall dads and moms a more comfortable experience. Parents also have ample storage space in a covered rear tray and lower storage basket that is easily accessible from all sides. The tray for children has snack holders / cup holders and it can swing away when not in use.
The Ally 35 Infant Car Seat pairs great with this stroller and makes it easy for parents to move newborns from the car to the stroller and back again. This is a deep car seat that has side impact protection to keep your baby safe along with an adjustable 5-point safety harness. Other basic features like latch equipped base and one-hand easy access release are all included in this car seat. It weighs about 14 lbs.
Pros
Budget Price
3-Wheel Design
Suspension
Cons
Limited Canopy
Cumbersome Fold & Storage
Small Cupholders
Buying Guide: Best Travel Systems
Newborn babies can really tie parents down when they arrive. A big part of the early parenting adventure is getting out with your baby, and to do that well requires a travel system. Babies will often nap on the go and a travel system is a convenient way for parents to move children from the car to the stroller and into the house all without waking them from their naps. In our ratings and reviews we analyze top travel systems to find the best travel system for parents.
What is the most affordable travel system?
Travel systems can be quite expensive since they include the stroller, car seat, and vehicle base. When experiencing sticker shock it is important to remember that all three pieces come in the travel system package. Still, parents will find that the prices for these systems will vary greatly and that they can get a reliable, safe travel system off this list without spending a lot of money.
What is a travel system?
A travel system is a combination of car seat, stroller, and vehicle base that together gives parents a lot of flexibility in moving around newborn babies safely without disturbing their sleep. All of the pieces are sold as a set so that they are designed to work together and to make certain that they click together quickly and easily.
How do travel systems for newborn babies work?
The core part of a travel system is the car seat. Your child will spend a lot of time in the car seat and it is important that they are comfortable enough to sleep in it whenever possible. The car seats in your travel system will be complemented by a stroller that it is designed to work with. This will help make sure it clicks in easily and also that it connects securely without compromising the balance and maneuverability of the stroller. The travel system will have a vehicle base that works the same way by staying installed in your car and letting the car seat release in and out of it fast.
How is a travel system different from a stroller?
A stroller is great but it will require you to unbuckle your baby from their car seat and move them out of the car seat and into the stroller or bassinet. A newborn needs more support than a regular stroller offers to keep their head up safely, so travel systems utilize the newborn car seat and 'add wheels' to it by connecting it to a stroller.
Should I buy a travel system or not?
Travel systems are very convenient for parents that are on the go and want to bring their newborn with them. Having the infant carrier car seat with you at all times becomes a real luxury compared to leaving it back in the car. The infant carrier is often a place your baby will sleep and being able to move them without disturbing them is crucial.
How do I choose a travel system?
Start by thinking about what sort of car seat is best for you and then try to imagine the type of stroller you want to push around. Shopping for all of this baby gear is easier when you first take the time to reflect on how you will use it. Parents looking to move at a higher speed or off the streets and sidewalks might want to consider a three wheel design instead of a four wheel design. Babies that are going to sleep in the car seats often might want a deep seat with a big canopy that makes it dark for them. These are all things for mom and dad to consider during the shopping process.
Conclusion: Shopping for Newborn Strollers
The best travel systems for newborns pairs a safe car seat with a sturdy stroller and convenient car seat base. Since parents are shopping for three components there are a lot of options and the safest path is to purchase an all inclusive travel system that bundles the pieces together. Often strollers from different brands can 'click' together, but it is unlikely to offer the safe connection and advantages of using systems that were totally designed to pair together.
Parents will find a large range in the cost of these travel systems, and parents looking for a good starting point should consider our top rated travel system the Evenflo Pivot. Otherwise there are more fully featured models available for more money and less featured models available at a cost savings. Take a look at our list carefully and most importantly try to imagine where you will be traveling with your baby.