Jogging strollers are a great tool in your fight to be an active parent. The best way for parents to find time to run is learning to run with the baby. A good jogging stroller is like a gym membership for a new parent and used the right way it can be great bonding time and a fresh air adventure for your child.
Being an active parent is hard. It requires a commitment to not leave your child behind every time you go for a run. Sometimes parents jog as a way to escape parenting for a little bit, but instead bring your child along and use jogging as an escape from your normal parenting routine. Running with your kids can become a rewarding lifelong lifestyle.  
Best Jogging Strollers of 2021 – Ratings and Reviews
Getting started with a jogging stroller can be intimidating. Beginning to exercise again after pregnancy and childbirth is also difficult. However fresh air and exercise are crucial to parents and to young children as they grow. A good jogging stroller makes it easier to get started by offering you and your child a smooth ride and easy stride. A good jogging stroller has larger wheels to help you over bumps and the best jogging strollers add suspension systems for a more comfortable experience.
There are a lot of jogging strollers for parents to choose from but these currently our favorites. We will update this list frequently.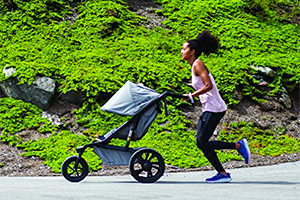 Get ready to run with this top rated jogging stroller the BOB Gear Altrerrain Pro. Put up fast times on your run without waking your baby due to an integrated suspension system. The SmoothShox suspension system provides travel for the rear wheels with dampers to make the ride comfortable. Large, air-filled tires also contribute to a smooth, balanced ride. 
Parents in difficult terrain appreciate the hand brake feature on the BOB Gear Alterrain Pro. The hand brake mounts up on the handle so it is easily accessible and provides excellent control on downhills. For joggers it feels like holding a bike handlebar and hitting the brake with one hand. 
The BOB Gear Alterrain has a slew of features that are not always found on other models. The cargo basket underneath the stroller has a zip-top so that it can close and a number of other pockets are available on the back of the stroller for holding your cell phone or snacks. The canopy is waterproof, windproof, and UPF 50+ sun protection but it is a bit smaller and tapered. The stroller has bright, reflective tape in a number of key places to greatly enhance night time visibility. 
Strong and sturdy this jogging stroller is safe up to 75 lbs. It is heavier than other strollers at about 32 lbs. It is available in seven attractive colors so you will look good at the 5k or the grocery store. You can save about $50 by not getting the handbrake equipped Pro, or save even more by checking out the BOB Gear Rambler. 
Read more in our Full 2021 Review of the BOB Gear Alterrain Pro jogging stroller.
Pros
Excellent Suspension System
Large, Air-filled Tires
Hand Brake
Cons
Premium Price
Narrow Seating
Tapered Canopy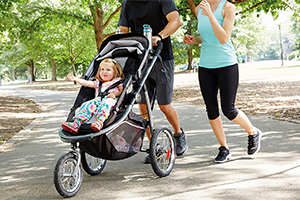 Parents who are discerning shoppers will often end up choosing the Graco Jogging Stroller. It is a great combination of quality construction and market leading features. The price point of this stroller is twice the cost of a cheap jogging stroller and half the cost of an expensive one. It sits perfectly in balance between quality and cost and extravagance. 
Jogging strollers will take a beating so parents are justifiably reluctant to pay for some of the more expensive models. At the same time, parents who run are asking a lot out of a three wheel stroller when they pound the pavement (or trail) with it day after day. Graco comes to market with a jogging stroller that performs well but isn't going to make you feel bad when it gets muddy. 
This jogger features a smooth ride for children with both an active suspension and air-filled tires. The suspension is not as robust or adjustable as other systems but it absorbs the bumps and softens the ride. The air-filled tires also contribute to the good ride and the large rear tires navigate bumps well. The stroller weighs 33 lbs and can accommodate children up to 50 lbs. 
Graco also works to sell versatility with this stroller as it can accommodate seven different seating positions for your child. Seven seating positions seems crazy but really what it means is that they offer rear-facing seating so that you can easily flip your child around between looking out and looking at you. It is a great feature that some parents really like. The seat also includes a 3 or 5-point harness. That math from Graco on seven seating positions is also partly from an optional attached infant carrier that can clip in. The jogging stroller accepts all Graco Infant Car Seats and has an optional travel system available that includes the SnugRide 35 LX car seat. 
Parents can save a few bucks and get a quality stroller with the Graco FastActionFold Jogging Stroller. It does not have the same full feature set as the Graco Jogging Stroller but has many of the same quality parts and is less expensive. 
Pros
Balance of Price & Features
Air-Filled Tires
Strong Suspension
Cons
Floppy Seating
Only Comes In Black
Heavy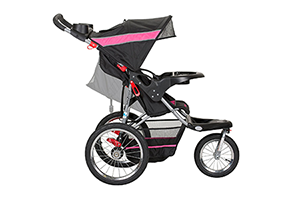 Our budget buy choice is the Baby Trend Expedition Jogger Stroller. This stroller is a very popular option for parents that want a three-wheel jogging stroller that won't break the bank. It is a good looking stroller that can take rugged play without breaking apart. Even at its low price point this jogger still offers market leading features like a canopy, storage basket, easily adjustable 5-point harness, and a locking front swivel wheel. It is available in eight attractive colors.
This jogging stroller sports large bicycle tires that runners will like. It also has a comfortable, rubber handle that is easy to hold onto and wide enough to grasp from multiple angles. The child tray on the Expedition Jogger Stroller has two cup holders and also accepts Baby Trend Flex-Loc or Inertia infant car seats, which are sold separately but can be attached to create a travel system. This jogging stroller is safe up to 50 lbs. 
This stroller does not have all the bells and whistles of more expensive models, but it has a sturdy steel frame and is rather lightweight at just 27 lbs. The light weight combined with the large wheels makes for a very versatile stroller that can navigate easily on paved or rocky terrain. The Expedition Jogger Stroller did require some assembly and parents will find the braking system on this model more cumbersome than other, more expensive options. The seat on this jogging stroller is also a bit too loose and that can jostle children around. 
Long-term users who ran into problems most often reported issues with the front wheel locking, due to presumably a cheap bearing. Ideally future models will replace that part with a more expensive bearing to help avoid issues. We will be on the lookout for that and update this page regularly. 
Pros
Large, Air-filled Tires
Easy Adjust 5-Point Harness
Low Price
Cons
Cumbersome Braking
Limited Durability
Shoddy Bearings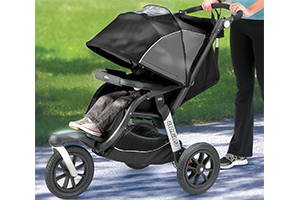 When comparing jogging strollers the Activ3 from Chico just looks different from the competition. Most of the strollers have a similar design, but Chico breaks the mold with this innovative approach and the result is stellar. Children can sit up straight in this stroller and have great thigh and calf support. The front wheel of the stroller sits out in front on a gooseneck resulting in a thin, tapered look. 
The stroller is designed this way because it uniquely offers front wheel swivel and brake controls from a control center on the handle. Parents on the run can easily adjust the front wheel to a locked or swivel position without taking their hands off the handle. The brake control is also easy to use and gives a good sense of control. The handlebar has the wheel swivel lock on the left and the brake controls on the right.  
Another nice part of the design for parents is that they can easily adjust the stroller's suspension by using their foot and pushing in down by the wheel. Chicco uses a FlexCore suspension to dampen bumps. The adjustable suspension results in a very forgiving stroller that can deliver a smooth ride for your child on any terrain. The tires are foam-filled instead of air-filled so parents have less maintenance. 
Chicco has built a strong stroller with a great look and feel. The stroller weighs 27.5 lbs and is safe to use for children up to 50 lbs. Parents have only the one color to choose from. The stroller can accept click-in attachments from any Chicco KeyFit or Fit2 car seats and the company has a travel system version available that includes the KeyFit 30 infant carrier. 
Read more in our Full 2021 Review of the Chicco Activ3 Air jogging stroller.
Pros
Front Wheel Swivel Control
Hand Brake
Adjustable Suspension
Cons
Questionable Durability
Only One Color
Unique Design
Jogging Stroller Buying Guide
Some of the best technology advancements are happening on three wheeled strollers. Strong suspensions on these jogging strollers keep your baby comfortable as you walk, run, jog, or even hike. On these strollers the big wheels keep rolling with high maneuverability and swivel or fixed front steering.
Three-wheeled strollers have a distinct steering advantage over other types of strollers. The design also allows for deep reclining seats and generous storage underneath telescoping handlebars. The best models offer five-point harness, hand brakes, and safety features like wrist straps.
With all of the mechanics these strollers are heavy. A sturdy stroller is helpful on the run but often these strollers are more cumbersome and challenging to unlatch. When you fold these strollers up for storage they do not fold very flat or small.
What is the best jogging stroller?
There are great jogging strollers at every price point. If you want to have a more flexible option than a regular stroller to take on heavier terrain you can get an inexpensive stroller like our popular budget choice the Baby Trend Jogger. Alternatively, heavy runners who want to be ready to roll at a steady pace some of the high end models like the BOB Jogger and Graco Jogging Stroller offer excellent control and suspension so you and your child are both comfortable. Paying more for a jogging stroller gets parents features like an easily accessible hand brake and in some models like the Chicco Activ3 even control over locking and unlocking the front wheel pivot.
Can you use a jogging stroller everyday?
Yes, you can use a jogging stroller everyday. The advantage is that you have bigger tires that roll easier no matter where you are. The disadvantage is that your stroller is heavier and a bit bulkier both strolling around and when you fold it up. If you use it as an everyday then the jogging stroller is likely to be the heaviest piece of baby equipment that you regularly lift in and out of the trunk of your car or bus.
Is a jogging stroller safe to use with newborns?
Yes, you can safely jog with a newborn using a travel system arrangement where the baby carrier clips into the jogging stroller. Usually this will position the baby rear facing so you can keep an eye on them while you run. It is great to get baby out into the fresh air whenever possible and going for a run with your newborn can be quiet, relaxing bonding time.
Do jogging strollers fold up easily?
All the strollers are going to offer one-handed easy fold but parents should temper their expectations and aim to use two hands when possible. The strollers don't fold themselves and because they have bigger wheels the pieces of the jogging stroller will inevitably fold together more precariously. Always watch out for fingers and toes when folding and unfolding your stroller.
Conclusion
Parents looking to spend more time moving around outdoors with their baby should consider buying a jogging stroller. The best jogging strollers give parents freedom to move from the street and sidewalk to more strenuous terrain without ruining the ride for your little one. With market leading features like suspensions and hand brakes it is a lot more comfortable for kids to come along on your jog. Large, air filled tires on jogging strollers help you easily navigate around and ample storage underneath gives you room to bring along some fun. Any of the top strollers reviewed above gives parents a great way to have fun outside as a family.