The Chicco Bravo Trio Travel System is one of the top-selling travel systems available on the market today, featuring the #1-rated KeyFit 30 infant car seat. Designed to make traveling with a young child effortless and streamlined, the car seat has click-in capabilities that fit securely to the stroller's child tray – conveniently removing the need for adapters and making it both a smart and affordable option for busy families.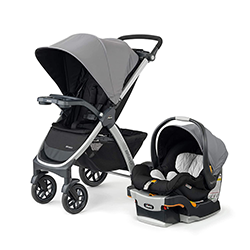 The Chicco Bravo system has been designed with busy parents in mind, with a one-hand multi-position reclining seat, along with one-hand, freestanding stroller folding. Perfect for when you are juggling groceries, car keys, and multiple little ones!
Suitable for growing children
Parents like that this travel system grows along with your child, as it uses the KeyFit car seat with its removable head and body support to comfortably seat newborns weighing 4-11lbs. Once your child reaches either 30lbs in weight or 30" tall, transition to the full-sized toddler stroller that is suitable for children up to 50lbs in weight.
Comfortable and Functional
In this stroller, you can protect your little one from the elements with the large, adjustable, UPF-rated canopy. Even with the canopy extended, parents can still check on children through the mesh peek-a-boo window. The stroller also conveniently supplies ample storage with a large front and rear access basket, along with a two-cup holder parent tray featuring more built-in storage.
The Chicco Bravo is easy to steer, with adjustable push handles that can be set at multiple heights for parent comfort. All the while your child will remain comfortable thanks to the large treaded tires featuring all-wheel suspension, and locking or auto-swivel front wheels designed to navigate over even difficult terrain. Easy to secure, the foot brake is rear linked so that with one tap you can lock your stroller in place.
Top Rated Car Seat
The rear-facing infant KeyFit car seat has ranked as a #1 best seller for good reason. Chicco's innovative design has made it so simple to install, with a host of features that make it incredibly easy, yet safe. Connect with either the premium LATCH base connectors or use the clear seat belt routing to lock the carrier into place.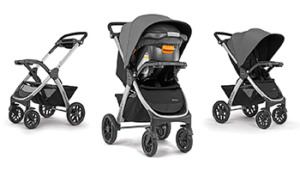 The Chicco Bravo Trio 3-in-1 travel system is a great choice if you are looking for functionality coupled with ease of use. Let's explore some of these great features in more depth so you can decide if this is the right travel system for you.
Key Features at a Glance
Comes with the top-rated KeyFit car seat and base
The stroller includes a two-cup child tray that acts as a click in attachment for the infant car seat – no need for adapters
Includes detachable stroller seat and canopy with stroller lightweight frame
Auto swivel or locking front wheels
Easy one-hand fold with carry handle
Comfortable multi-position reclining backrest
Large adjustable UPF-rated canopy with peek-a-boo window
3 position adjustable push handle
Two-cup parent tray with inbuilt storage
Large storage basket with built-in organizer pockets
Car seat comes with a secure 5-point harness
Lightweight 9.5lb infant carrier
Carrier shell made with EPS energy-absorbing foam enhancing impact protection
One pull SuperCinch LATCH tightener
RideRight bubble level indicators
ReclineSure spring-loaded leveling foot
The Details
Aesthetics
The Chicco Bravo Trio travel system is available in 7 stylish designs, featuring a selection of sleek fabric styles from polka dots to solid or striped panels. The colorways feature varying shades of greys, blacks, navy blues, or delicate pink tones that look chic whichever look you opt for. Overall the complete travel system looks both sturdy and sophisticated, making it a beautiful choice for any on-the-go parents.
Functionality
This travel system has proven to be both an affordable and highly functional choice for many parents. The convenience of the travel system allows for smooth transitions from the car to the on-the-go, with only occasional difficulties on very rough terrain. However, the wheels and all-wheel suspension handle most journeys with ease.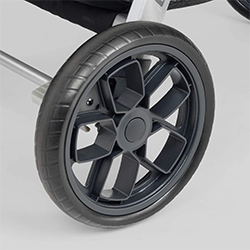 The steering of the Chicco Bravo is smooth and the auto-swivel or locking front wheels make maneuvering a breeze. When you are ready to hop back in the car the KeyFit 30 provides both comfort and safety for your little ones, as well as peace of mind for parents knowing this highly rated car seat easily locks into place securely when using either the latch base or seat belts.
Material and Build Quality
The hardware of the stroller is made from a combination of plastic and metal, making it durable when taken out for long walks. The shock absorbency of the stroller has received mixed reviews, with many reporting no complaints, but some observe that the stroller struggled over rougher terrain.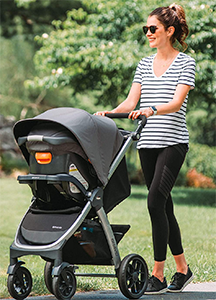 The Chicco Bravo has been praised for its high-quality design by most parents and many have stated they would not only recommend the product but repurchase it for themselves in the future. Some parents have, however, found problems with stroller components like the wheel axles. Axles occasionally become bent over time, making it harder to maneuver the stroller, particularly on uneven ground.
The KeyFit car seat is also made from a combination of plastic and metals. The carrier is lined with an EPS energy-absorbing foam. This provides additional impact protection, absorbing any shock and protecting your baby.
Dimensions and Specs "Will this fit in your car?" 
Car seats are notoriously bulky and even this streamlined model will take up a good portion of your back seat. To help you ensure that both the stroller and car seat will fit comfortably within your car, here is a complete list of dimensions for you to reference before purchasing.
KeyFit 30 Infant Car Seat Dimensions
Assembled Dimensions: 27.5″ x 17″ x 24″
Car Seat Without Base Weight: 9.6 lbs.
Base Only Dimensions: 20″ x 15″ x 8″
Base Only Weight: 7 lbs.
Bravo Quick-Fold Stroller Dimensions
Toddler Stroller Assembled Dimensions: 35.2″ x 22.8″ x 42.7″
Toddler Stroller Folded Dimensions with Child Tray Installed: 15″ x 22.8″ x 36.8″
Toddler Stroller Folded Dimensions with Child Tray Removed: 15″ x 22.8″ x 29″
Toddler Stroller Assembled Weight: 24.9 lbs
Frame Stroller with Canopy Assembled Weight: 21.8 lbs
Frame Stroller Assembled Weight: 20 lbs
Front Wheel Diameter: 7.5″
Rear Wheel Diameter: 10.3″
Installation and Assembly 
The Chicco Bravo travel system and the Keyfit 30 infant car seat both come with simple to follow assembly instructions. Many parents have commented on how easy the system is to put together and install into your vehicle.
The car seat can be installed using your vehicle's seat belts for easy transition between cars, or for a more secure fit, it can be used in conjunction with the Chicco LATCH Base for a safe and sturdy fit. Featuring two RideRight bubble level indicators and a ReclineSure spring-loaded leveling foot, you can ensure your infant is positioned at the correct angle for every journey.
The Chicco Bravo travel system with its easy one-hand fold makes it simple to store after use while on the go. Most parents have praised how easily it compactly fits into even small trunks, with many having plenty of space left over for groceries. Some have commented that the stroller can feel heavy to lift, but this comes with the sturdy and durable design that the Chicco Bravo has been praised for.
Cleaning and Maintenance 
The complete manual for the Bravo stroller can be found here, and the Keyfit 30 infant car seat manual can be seen here.
Caring for your Bravo Stroller
The fabrics on this stroller are hand wash only, to be cleaned using cold water and left to air dry. The plastic and metal parts can be wiped clean with a soft damp cloth but make sure they are towel-dried to avoid rust formation.
Maintain the proper function of your stroller by lubricating moving parts as needed with a light silicone-based lubricant. Be sure to check and clean the wheels regularly and remove any dust dirt or sand build-up from the movable plastic parts along with the metal frame. Store out of direct sunlight to avoid fading of the fabrics.
Caring for your KeyFit Infant Car Seat
The fabrics of the car seat can be removed and machine washed on a cool and delicate cycle, again allowing to air dry. The hardware can be sponged clean using a mild soap and warm water, just be sure to towel dry after. The harness should not be machine washed, instead, sponge clean it using warm water and mild soap, then let it completely air dry before use.
It is important that you do not use bleach, solvents, or any other household cleaners when cleaning your travel system as this may weaken the plastics and straps. Also never submerge the straps completely in water.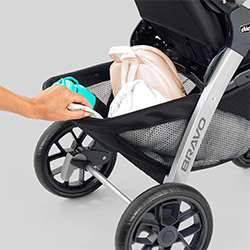 Accessories
With ample storage space, an array of cup holders, and the LATCH base included for the KeyFit 30 car seat, this travel system delivers almost everything you could need without additional accessories.
To ensure you are ready to travel whatever the weather, universal sunshades, footmuffs, and rain covers are all purchasable for your Chicco Bravo travel system. You may also wish to invest in an extra LATCH base which can also be bought separately to make transitions between vehicles smooth and seamless.
Final Verdict

Affordable 3-in-1 travel system
Includes full-size Bravo toddler stroller, KeyFit 20 car seat, and LATCH base
#1 Rated car seat in America
Selection of stylish color options
Easy to assemble and install with step by step guide
Folds compactly with one hand to fit even in small trunks
Plenty of storage space, including multiple parent and child cup holders
Easy to maneuver in tight spaces or over uneven terrain
Grows with your child, suitable from newborn to around 4 years old
Easy transfer between vehicles with the option to car seat secure with seatbelt

Mixed reviews regarding strollers shock absorbency
Some reported issues with wheel axles over time
Babies grow out of the car seat at around 1 year old
A lot of the fabrics are hand wash only
The Bottom Line
The Chicco Bravo Trio Travel System is a fantastic and affordable option for parents who want not only the best levels of safety but something easy and effortless to use. While a few parents have reported minor problems with the stroller, overall it is easy to see how this innovative travel system has become a bestseller. Would we recommend the Chicco Bravo Trio 3-in-1 travel system? The answer is yes!