The Britax B-Lively Travel system has been designed with busy families in mind. Providing you with a premium stroller, safe car seat, LATCH base, and car seat adapters, this really is an all-in-one package. Parents praise the strollers' quick one-hand fold, light-weight compact design, and easy 3-wheel steering.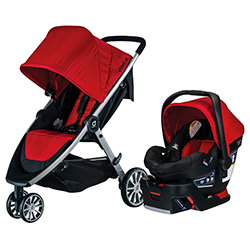 For those of you who are on-the-go, the quick click-and-go design allows you to move the strong shock-absorbent infant car seat from the vehicle to the stroller with ease. A travel system is the best way to move a sleeping baby in and out of the car. Britax's innovative SafeCell technology also provides impact protection, keeping your baby safe and secure within the car seat's steel frame. It's no wonder Britax has been a leader in mobile safety for more than 80 years!
This article will walk you through the key features and benefits of the entire B-Lively Travel System, allowing you to make an informed decision before purchasing. However, judging by the positive reviews from parents, it seems most would agree the B-Lively is worth its premium price tag. Read on so you can decide for yourself!
Key Features at a Glance
Includes the B-Lively stroller, B-Safe car seat with LATCH base, and car seat adapters
Quick one-hand fold stroller
Easy Click-and-Go transition of the infant car seat to the stroller
Lightweight aluminum stroller frame
Compact design suitable for small vehicles
Shock absorbent, side-impact protective, steel car seat frame
3 easy to steer wheels with all-wheel suspension
Large storage basket with a front access panel
Padded 5-Point Harness
50+ UV protectant, ventilated, peek-a-boo canopy
Built-in, zip close, canopy storage pocket
1 Year Warranty for the Car Seat
2 Years Warranty for the Stroller
The Details
Aesthetics
The B-Lively comes in your choice of four chic colors. Cardinal, which features a mix of black and red fabrics. Dove, which sports a mixture of gray and black fabrics. Raven, a stylish solid black design. And there is also an Amazon exclusive color, Ashton, which is a mixture of black and light gray accents.
The three-wheel design of the B-Lively provides a sleek, yet sturdy appearance and the curvature of the hardware gives a seamless modern finish. Whichever colorway you choose, this travel system will have you cruising in style.
Functionality
The Britax B-Lively travel system was designed to take the stress out of traveling with your little ones. The strollers easy one-hand fold feature has been proving popular among parents, who are also impressed with the strollers lightweight and compact design. Its ability to be lifted and placed into even a small trunk while keeping one hand free to manage your little ones has earned this stroller high praise.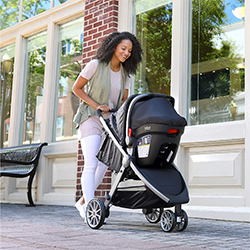 Its 3 wheel design makes it easy to maneuver around tight spaces, with a lockable front-wheel and all-wheel suspension to ensure your child has a smooth ride, perfect for nap time. The infinite recline of the stroller also allows you to lay your child back so they can snooze in comfort. Convenient click-and-go adapters allow you to transfer the car seat from your vehicle to the stroller with ease, causing no disruptions to your baby. The ventilated canopy provides 50+ UV protection and has a peek-a-boo window so you can keep an eye on your little one without exposing them to the sun's rays.
This stroller comes with a large under-seat storage basket, capable of up to 10lb storage limit, with a front access panel. Some parents still found this to be too small, and to compensate there is now an additional zip panel on the canopy that's perfect for storing your keys, wallet, or phone.
The B-Safe car seat provides side impact protection to safeguard your baby's head, neck, and torso, while the steel frame creates stability. The LATCH base allows you to easily secure the car seat inside your vehicle. Although the carrier itself can be fastened in with a seatbelt, the LATCH base is preferred as it features a layer of SafeCell technology that compresses upon impact to absorb energy during a collision. The baby is secured in the infant car seat using the padded 5 point harness, which some parents have reported to be quite stiff when tightening, but feels sturdy once correct.
Although the stroller is suitable for children up to 55lbs, the car seat only has a capacity of up to 35lbs, with most parents reporting that their child grew out of it by 1 year. Replacing the car seat that comes with the system as your child grows is a cost families should to consider before purchasing this travel system. Most parents have, however, found the system worth it for the fantastic newborn focused features and because the stroller can continue to be used as your baby grows to a toddler.
Material and Build Quality
The B-Lively stroller has a lightweight aluminum frame, making the stroller easy to lift and maneuver. The B-Safe car seat is reinforced with a steel frame to ensure that it remains stable. Parents get peace of mind knowing that the B-Safe car seat has been manufactured to conform to the Federal Motor Vehicle Safety Standards (FMVSS 213) and has also been certified by the FAA for aircraft use.
The majority of parents have praised the quality of this travel system, however, some parents have complained that the foot activated brake system on the rear wheel is hard to use when wearing sandals or flip-flops. There do not seem to be many complaints regarding the build quality, however, Britax does provide a 1-year warranty for the car seat and a 2-year warranty for the stroller should you notice any defects. Spare parts are also available to purchase directly from Britax should any general wear and tear cause damage to your stroller.
Dimensions and Specs "Will this fit in your car?"
Stroller Dimensions
Weight: 20lbs
Unfolded dimensions: 33″L x 23″W x 40″H
Folded dimensions: 29″L x 23″W x 12″H
Inner stroller seat width: 11"
Car Seat Dimensions
Car seat weight: 10lbs
Car seat base: 9lbs
Car seat with base dimensions: 17.75" W x 25" H x 30.62" D
Seat shell: 8.75" W x 13" D
The compact and lightweight design of the B-Lively allows it to be easily lifted and placed into vehicles with small trunks, with most vehicles having extra space leftover for bags and groceries. The B-Safe car seat fits in most cars and trucks with ease, however, the base may not be suitable in vehicles with lower depth back seats. Ensure there is no more than a 3-inch overhang of the base over the edge of your seats for a safe installation.
Installation and Assembly
The stroller is easy to assemble, with no tools required and detachable wheels that simply click into place. The remainder of the stroller is ready to go out of the box. To use the stroller with the infant car seat, just line up the car seat adapters with the receivers on the stroller and click them into place, the car seat then slots onto the adapters for on-the-go travel without disrupting your baby.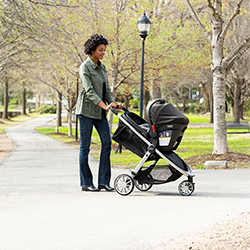 Installing the car seat into your vehicle is made both simple and safe when using the LATCH base included with the system. Most parents commented on how quick and easy both the car seat and base are to install, however, some parents have reported difficulties pulling the connector straps tight enough that the base feels secure.
Cleaning and Maintenance
Unfortunately, the fabrics on both the B-Lively and the B-Safe are hand wash only. The material on the stroller can be spot cleaned using cold water and a mild soap and allowed to air dry to avoid any shrinkage. The frame of the stroller can be wiped clean with a damp cloth and mild soap, ensuring excess water is dried with a towel.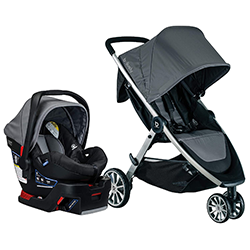 The fabric of the car seat can be removed to allow for easier hand washing, using cold water and mild soap, it can then be dried on the line completely before reattaching. The shell and straps can be sponged clean with warm water and mild soap, however, the harness buckle must be rinsed with warm water only. Make sure to dry everything well after cleaning and test the buckle, refastening until a click is heard before used.
Accessories
Britax does a great job delivering a full service travel system to parents with a number of helpful accessories included as standard items. Parents that did add accessories to their strollers often focused on organization.
Child Tray – Although the B-Lively does not have a built-in snack tray, you can purchase a detachable child tray with a built-in cup holder so you can easily feed your child on the go.
Stroller Organizer – This detachable organizer adds additional storage for when you are out and about, with its three external pockets and a large, magnetic fastening, center compartment. It also features two insulated beverage holders to maintain the temperature of either you or your baby's drink.
Stroller Board – Easily travel with more than one child, the stroller board attaches to the B-Lively with its quick-release design. Suitable for children up to 50lbs, the board can be adjusted to your child's height, with independent suspension to provide a smooth ride.
Final Verdict
It is ok to pay a lot in life so long as you get a lot for it, and the Britax B-Lively Travel System absolutely delivers with a best-in-class quality stroller and car seat combo. The price tag on this system is not for the faint of heart, but if nothing is too good for your little one or you are looking to splurge on a luxurious gift for a new mom and dad this stroller is for you. Some of the strollers pros and cons are below.

Easy one-hand fold
Compact and lightweight
Quick transition of the car seat from vehicle to stroller
Infinite recline stroller seat
LATCH base provides safe and secure installation
3-Wheel design for easy maneuverability
The car seats SafeCell Technology provides impact protection
Steel frame creates car seat stability
Side impact protection surrounds babies head, neck, and torso
Certified by the FAA for aircraft use
Padded 5 point harness keeps baby safe and comfortable

Hand-wash only fabrics
No built-in snack tray or cup-holder
The brake system can be difficult depending on your footwear
Carseat may not be suitable for back seats with a low depth
Babies grow out of the car seat around 1 year old
The Bottom Line
The Britax B-Lively travel system with B-Safe infant car seat offers innovative safety protection while remaining easy to use and simple to install. If you spend a lot of time transitioning from the car to the sidewalk, Britax has your back with its simple one-hand fold and click-and-go adapters. Although it is unfortunate your baby will grow out of the car seat at around 1 year, the value of the stroller, its compact design, and smooth steering have parents forgiving this small drawback. Overall, this travel system is proving to be a winner amongst both busy and quality-conscious families, providing them with both ease of use and peace of mind.