As your family grows it can quickly start to become more difficult to get around. If you have got twins in tow or baby two (three?!?) on the way, then a double stroller is the way to go. A double stroller comes in two types: side-by-side seating or tandem seating options where children sit behind one another.
Best Double Strollers of 2021 – Reviews and Ratings
The double stroller offers parents some big upsides and some big downsides. The bad news is that they are heavy and bulky. Double strollers do not store well and can weigh up to forty pounds. Sometimes they don't fit through the door or up the stairs or around the turn like you want them to.
The good news is that you only have to manage one stroller. Your kids are all in one place. You have a tremendous amount of storage space below. You are mobile and on the move. One kid can fall asleep and the other kid can still get out and play at the park. When you have busy little kids and the double stroller feels like home to them then life is easier on mom.
We review and rate the best double strollers for families below.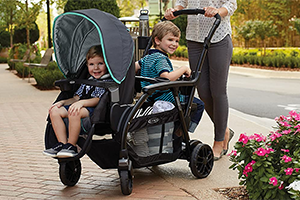 Versatility is the name of the game for the Graco Modes Duo Double Stroller. It offers a plethora of seating options for children of all ages including six infant riding options, five toddler riding options, and eight options for toddler + infant seating. Two removable seats allow for endless customization. Parents with growing families can invest in this stroller and be confident that it can accommodate their children for several years.
This stroller easily accepts all Graco Infant Car Seats with Click Connect. The stroller can hold two car seats at once and there is room for each car seat to face forward or backwards depending on parents preference. Older brothers and sisters can easily fit behind an infant car seat and the stroller allows them to sit or stand. Big kids that sit in the stroller will be rear-facing and the children will be forward facing when they stand. Toddlers sitting in the stroller are comfortable in dual reclining seats.
Parents like that this stroller has extra wheels on the bottom to support the rear foot rest and improve maneuverability. The extra set of wheels are smaller and not air-filled so they do slightly increase the road noise emanating from this stroller. Underneath the stroller is a large storage basket. This stroller gets high marks for easy folding and storage with a latch that closes easily whether seats are on or off. Three dark, muted color options are available for parents to choose from.
Read more in our Full 2021 Review of the Graco Modes Duo double stroller.
Pros
Versatile Seating Arrangements
Includes Cup Holders
Quality Construction
Cons
Premium Price
Slightly Louder
Sun Shades Taper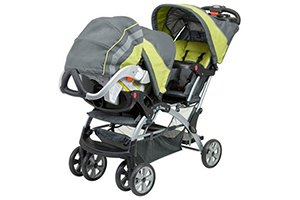 Parents looking for a less expensive stroller option should consider the Sit N Stand Double Stroller. This sturdy, steel frame double stroller makes transporting young children easy with multiple sitting and standing arrangements. In this stroller your children can sit in front and rear seats or the rear seat can be removed to accommodate a child that wants to stand.
The stroller is designed to hold two children weighing up to 40 lbs each. Each seat is equipped with a five point safety harness. Any of the Baby Trend infant car seats can click in quickly. Children who want to stand on the rear of the stroller should be at least 2 ½ years old. If you use both seats then the larger child will sit in the front.
The parent console on this stroller provides good, covered storage and two cup holders. There is also a storage basket located underneath the stroller but it is small and narrow. The stroller is heavy but a foot activated rear brake helps parents stay in control. The stroller folds easily enough considering its size and weight.
Pros
Budget Price
Sturdy Steel Frame
Easy Rear Seat Removal
Cons
Short Seat Cushions
Small Underneath Storage
Heavier Than Competitors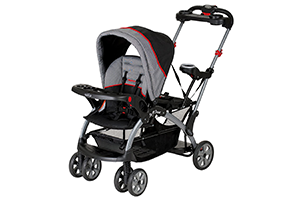 Families with Baby Trend Infant Car Seats can easily create a compact, maneuverable travel system with this Baby Trend Sit N Stand Ultra Stroller. This stroller can accept two car seats. Parents with bigger kids can have them sit in the rear seat or stand in the rear on a platform. The rear seat of this stroller does not have a backing to it. The stroller accommodates children up to 50lbs each or about 2 ½ years old.
Parents like that this stroller offers a large snack tray with cup holders. The snack tray is removable and can easily be placed in either the front or back position. Parents have their own storage tray in the rear of the stroller with their own cupholders.
This stroller offers an all wheel suspension to help soften the ride. The suspension helps a bit since the small, hard tires on the stroller create a lot of bumps. This is one of the lighter double strollers at just 27 lbs which also helps. Parents find the stroller highly maneuverable and easier to navigate with than other, wider double strollers.
Read more in our Full 2021 Review of the Baby Trend Sit and Stand Ultra double stroller.
Pros
Good Durability
Lightweight
Suspension
Cons
Tricky Foot Brakes
Front Seat Reclines Awkwardly
Wheels Can Interrupt Folding
Top Side-by-side Double Scooters
Parents who have children that want to be together or are close in age might be dissatisfied with how far apart kids sit in the tandem strollers. A tandem stroller makes it hard for the kids to see each other and connect. In that instance, parents probably want to consider a side-by-side stroller. The advantage of a side-by-side stroller is that the kids can have a space of their own to share and enjoy.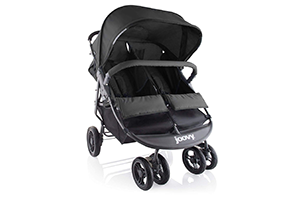 The Joovy Scooter X2 stroller is a great option for families looking for a side-by-side double stroller instead of a tandem. For siblings close in age, a side-by-side stroller positions them next to each other and orients them in the same direction. It is a lot more fun for kids to be together in a side-by-side stroller. Unfortunately for parents a side-by-side stroller is very wide, which makes it more difficult to navigate through doors and narrow passages.
At 30" wide the Joovy Scooter X2 is designed to sneak through standard sized doors. Kids need to keep hands inside the stroller when doing so because it is a tight fit. The stroller rolls well on 7 inch front wheels and larger 9.5 inch wheels in the rear. A parking brake on the rear wheels keeps the stroller where parents left it. The stroller is not light at 32 lbs.
Children like these seats and find them comfortable. Each of the seats reclines independently so children can position themselves comfortably. The seats also have adjustable footrests to support children's thighs and ankles. The seats share a bumper bar across the front and one large, oversized canopy on top that protects children well from the rain or sun. The stroller is available in five attractive colors.
Read more in our Full 2021 Review of the Joozy Scooter X2 double stroller.
Pros
Fun For Kids
Narrow, Side-by-side Design
Attractive Colors
Cons
No Car Seat Adaptor
Does Not Fold Up Very Compact
Heavy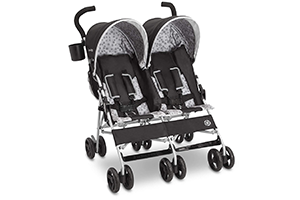 Jeep brings a sturdy, reliable stroller to market with their Jeep Scout Double Stroller. Boasting quality components but lacking some high-end features, this stroller is a good mid-market buy for families interested in a dependable stroller that can take a beating. It has standard features found on leading strollers like a reclining seat, five point safety harness, and a minor suspension system on the wheels.
This stroller from Jeep is quite lightweight at just 18 lbs so parents will find it easy to get in and out of the trunk. It folds up easily and stores compactly at just 42 inches x 13 inches x 11 inches. The rear of the stroller boasts double canopy bags to give parents ample storage space. Each seat on the stroller has its own canopy above instead of a shared canopy, but it is a European style canopy that tends to deliver less coverage.
Read more in our Full 2021 Review of the Jeep Scout double stroller.
Pros
Lightweight
Sturdy Construction
Balanced Feature Set
Cons
Small Wheels
Max Child Weight Capacity Just 35 lbs
European Style Canopy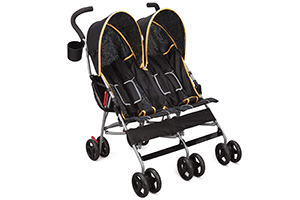 Smart parents know that there is a time and a place for a cheap stroller. Sometimes you just need to have transportation for your children and it doesn't have to be highly featured or fancy. Instead it can be frugal. In that case the Delta Children City Street side by side stroller is for you. It is a stroller that you can beat up a little bit and spill some ice cream on at the street festival and not have to worry so much about the little rips, stains, and tears you pickup along the way.
This stroller is lightweight, in part because it is lacking a heavy feature set. The stroller offers basic functionality you would find in a double stroller but that is about it. The quality of the components is fine but it has a lower weight limit of 35 lbs per child and will offer limited durability. This stroller is not meant to be a hand-me-down. It is meant to be a use-me-up.
Navigating is difficult with this stroller and it will probably take you two hands to keep it going straight. The seats on this stroller do not really recline. The stroller only offers a limited canopy that won't really protect children from the elements. It does come in several attractive colors.
Pros
Budget Price
Attractive Colors
Lightweight
Cons
Limited Maneuverability
Small Canopy
Basic Seats
Buying Guide: Best Double Stroller
Can a double stroller fit through most doors?
A standard door width ranges from 24-36 inches. Most exterior doors will exceed 30 inches, and parents will want to focus on strollers that can fit through doors without having to get the kids out of the stroller and break it down. Be careful not to pinch children's fingers when moving through narrow openings and doorways. An advantage of tandem double strollers is that they are a lot narrower than side-by-side double strollers.
Is the best stroller design a tandem stroller or a side-by-side stroller?
Each type of stroller has its own advantages and disadvantages. Tandem strollers are not as wide as other double strollers so parents can navigate them a bit easier in some situations. A tandem stroller also tends to fold up smaller and store compactly more like an umbrella stroller. Even when folded down, a side-by-side stroller will still be quite large to store away in your closet or trunk.
Are double strollers worth it?
For some families a double stroller is a necessity. Depending on the age range of your children, you might find it to be helpful to have a stroller that can carry two children. However a double stroller is inevitably going to be heavier and harder to maneuver than a single stroller. Parent's should consider the age gap and lean towards a side-by-side stroller for similar aged children and a tandem stroller so that they can wheel around the baby and still have somewhere for the older sibling to sit or stand. Parents usually imagine the baby always in the stroller and the bigger child sometimes sitting, sometimes standing, and sometimes walking.
Which double stroller folds up the smallest?
A tandem double stroller is going to fold up a lot smaller than a side-by-side stroller. The side-by-side strollers will always be a large package at least 30 inches while many tandem strollers can collapse to approximately 42 inches in length and just a foot or so wide. Tandem strollers will have smaller, removable seats in the back for big children will usually fold up the smallest.
Conclusion: Best Double Stroller
It can be hard to stay active as your family grows, but the best double strollers offer parents a convenient way to haul around kids and their gear. Double strollers have a larger footprint than single strollers and therefore give parents more storage space and give kids more room to relax. On the flip side a double stroller is heavier to move around and less maneuverable through crowded spaces. Families should think about how they will use their double stroller before investing in one, and a key initial consideration should be if a tandem stroller or side-by-side stroller makes the most sense. Parents looking for a great tandem stroller should start with the Graco Modes Duo Stroller and those in need of a side-by-side should consider our top pick the Joovy Scooter X2. Whatever stroller parents focus in on, they should be sure that it offers a safe, comfortable space for children to relax in.