(updated Summer 2021)
The best full size stroller reviews present a well-rounded look at all facets of strollers, including what's great and not so great about them. We study several characteristics of each product to get a thorough review so you can save time and money while still getting the best stroller for your baby.
Best Full Size Strollers of 2021 – Ratings and Reviews
Parenting is hard. You shouldn't have to worry if your child is safe and comfortable in their stroller. New parents often spend countless hours shopping for the perfect stroller, only to be sorely disappointed when it doesn't meet their expectations.
With the perfect stroller, however, it is easier to enjoy each and every walk with your baby, from a short grocery run to a long road trip. A stroller is one of the most important investments you'll make for your baby. Understand that you don't have to spend a lot of money to get a great stroller! Check out our ratings and reviews below to find a great stroller for you at the right price point.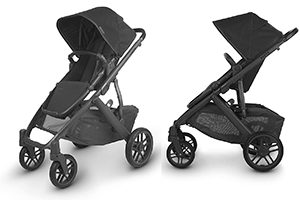 The UPPAbaby Vista V2 stroller makes a strong case for being the only stroller that you need. It boasts a unique, spring-action suspension and soft tires so that bumps disappear for both mother and baby. The wheels are 8 inches in the front and 11.5 inches in the rear. Pushing this stroller is a breeze and it has smooth, responsive handling that lets you maneuver it easily through tight spaces and around corners.
The Vista V2 is sturdy with a strong aluminum frame. The stroller is 27 lbs but feels lightweight and easy to push even while being fully featured. The frame allows easy access from the rear to an oversized storage basket perfects for diaper bags and toys. Folding the frame is easy with a single step fold process, and parents love most of all that the stroller stays self standing when folded. Keeping the folded stroller standing up on its wheels makes it easier to store and helps you avoid laying it down on the ground.
Children find the seat in the Vista V2 to be extraordinarily comfortable and the new all-wheel suspension system keeps the ride especially smooth. Parents can easily flip the seat around from forward facing to rear facing depending on the needs of your growing child. The canopy on this full-size stroller is large and expansive with zip-out panels that extend down for additional protection from the sun.
Read more in our Full 2021 Review of the UPPAbaby Vista V2 full size stroller.
Pros
Smooth Suspension
Large, Soft Tires
Highly Maneuverable
Cons
Premium Price
Nearly 26" Wide
Heavy at 27 lbs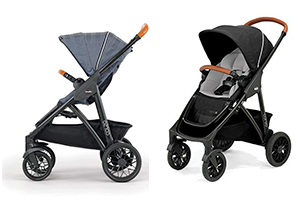 Parents looking for a stylish, full-size stroller in a reasonable price range should consider the Chicco Corso LE. This stroller delivers a smooth ride with a comfortable seat, foam filled tires and am adjustable spring rear-suspension to soften the bumps. It is fully featured with multiple seat recline positions, one hand quick fold, and the ability to stand independently when folded.
Children can stay comfortable for long rides in the Chicco Corse LE due to its adjustable footrest and reclinable seat. The canopy extends out to give children cover from the elements and it has mesh panels in it to keep things cool inside. This stroller can also accept Chicco car seats so parents can use it in the early months as more of a travel system. When children are ready to ride in the stroller they can choose to sit forward facing or rear facing in the adjustable seat.
Moms like the grip on the stroller handle and find it comfortable and easy to push for long walks. The storage underneath the stroller is also convenient and well thought out with two built-in bottle pockets that can keep liquids upright. The stroller is available in 4 colors with various muted shades of greys, blacks, and tans.
Read more in our Full 2021 Review of the Chicco Corso LE full size stroller.
Pros
Great Looking
Priced Right
Smart Storage
Cons
Limited Suspension
Hard Foam Tires
Heavy
3. Bugaboo Fox 2 – Premium Product, Premium Price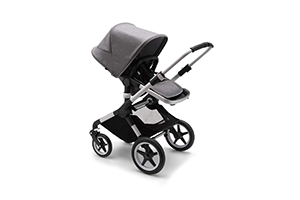 You get what you pay for? Often that is the case and if money isn't a problem then this stroller could be for you. It has best in class capabilities and market leading features but unfortunately that comes at a premium price. Parents should take a look at the Bugaboo Fox 2 for nothing else then because it is in many ways the stroller by which all others are judged. This stroller is perfect for movie actresses, investment bankers wives, and young lords and ladies.
For your money this stroller delivers with 8.5 inch front wheels and 12 inch rear wheels. The rear wheels have a nice suspension that softens bumps and the front wheels turn sharply to help parents navigate easily around corners. The Fox 2 delivers a very sturdy feel even though it is an exceptionally light stroller at just 22.5 lbs. All of that combines to create a stroller that really glides around town.
Children find the Fox 2 exceptionally comfortable with plush padding in the seat. The adjustable seat recline makes it easy for children to enjoy the ride even as they grow. It is important for strollers to protect children from the elements and the Fox 2 is highly adaptable with soft fabrics for staying warm on cold days and mesh panels for airflow during hot days. The large canopy provides good cover from the sun.
Read more in our Full 2021 Review of the Bugaboo Fox 2 full size stroller.
Pros
Lightweight
Includes Cup Holders
Comfortable Fabric
Cons
Premium Price
Limited Suspension
Did we mention the price?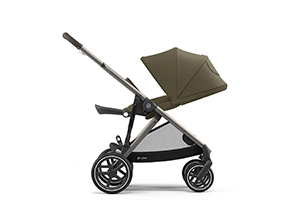 Cybex delivers an innovative, versatile stroller with the Gazelle S. This great looking stroller is very easy to push and unique among its competitors with the ability to convert from a single to a double stroller easily. This helps the stroller have a much longer useful life for families that have their first baby on the way but can look ahead to hopefully more children down the road.
Even though it converts the Gazelle S definitely holds its own as a single stroller. It offers market leading features like an all-aluminum frame, plush seating fabrics, and a leather covered handlebar and bumper bar. The seat reclines to a nearly flat position to keep children comfortable and the handlebar extends to keep taller moms and dads comfortable. Parents find this to be an especially attractive stroller with its sleek lines and coloring. The base colors of the stroller do not change but there are four sharp colors to choose from for the seat and canopy.
The Gazelle S has wheels that roll smoothly and turn easily. The back wheel is larger than the front wheel to keep the stroller moving over bumps and curbs. All wheel suspensions offer some additional damper when encountering obstacles, but the suspension does not have as much travel or support as some of the more expensive strollers it competes against. The stroller does fold up easily with the wheels supporting a self-standing mode even while folded.
Read more in our Full 2021 Review of the Cybex Gazelle S full size stroller.
Pros
Comfortable Seating
Adaptable Design
Big Wheels
Cons
Limited Suspension
Expensive Accessories
Smaller Canopy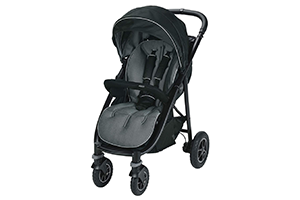 Families looking to add a quality, full-size stroller at a smart budget price should take a look at the Graco Air4 Platinum Stroller. This stroller from Graco offers a comfortable seat and handlebar for pushing it around town along with rugged all terrain tires to keep it moving over bumpy terrain. The stroller is especially lightweight and easy to maneuver with locking front wheels for improved stability.
Children find the seat on the Aire4 to be cozy with an adjustable recline and convertible 3 or 5 point harness. The stroller also has an adjustable calf support that helps children ride comfortably even as they grow larger. The canopy on this stroller is oversized to keep children shaded from the elements and the storage basket underneath provides ample space for toys and essentials.
Most interesting about the Aire4 stroller is that the stroller seat is removable and it can convert into a car seat carrier. The carrier is not as robust as other travel systems that have designated carriers, but it is an interesting feature that parents might find useful in a pinch.
Read more in our Full 2021 Review of the Graco Aire4 full size stroller.
Pros
Great Tires
Removable Car Seat Carrier
Extra Large Canopy
Cons
Smaller Storage
Questionable Durability
Limited Suspension
Buying Guide: Full Size Stroller
Your full-sized stroller will be with you for a long time and support your baby as it grows through the toddler years. These strollers are the standard option in most homes as the bigger, sturdier frame supports a full range of features. Parents love the extra storage and easy maneuverability.
Our stroller reviews showcase the most important aspect of each product so you can easily compare them with similar products on the market. We only list the best selling strollers, so this is a great place to start shopping.
Today's best full size strollers are those sporting all the bells and whistles and that fully support your baby from birth until they are ready to hold your hand and walk alongside. They are accessible, comfortable, and convenient to travel around with.
What is a full size stroller?
A full size stroller is the standard, traditional stroller that families most commonly use. These strollers are fully featured and offer high maneuverability, a comfortable ride, ample storage, adjustable seats, and large canopies. The various types of strollers have expanded to include umbrellas, joggers, double strollers, and travel systems but most families will still have a full size stroller as their main stroller.
How do I clean my stroller?
Stroller manufacturers work hard to make cleaning a stroller easy and parents should take the time to regularly inspect the stroller for areas that need attention. These strollers are tough so don't be afraid to scrub them to remove stains or substances.
Cleaning Seat Pads: Seat pads should be spot cleaned as necessary with warm water and mild soap. Many strollers offer removable seat pads that are safe to clean in your washing machine on a delicate cycle.
Cleaning Stroller Harness: Avoid immersing the straps in water as it can impact their integrity. Instead focus on spot cleaning with mild soap and a damp cloth.
Cleaning Stroller Frame: The frames on these strollers are mostly steel or aluminum and those parts can be cleaned with mild soap and water.
Stroller Wheel Maintenance: When the wheels on your strollers start to squeak be sure to clean them off and then apply a light oil or lubricant to keep them turning smoothly.
Conclusion: Best Full Size Stroller
Families looking for a full size stroller have great purchase options at every price point. Shoppers will find these strollers fully featured with comfortable rides, smooth suspensions, and ample storage. These strollers make it easy on everyone with bigger wheels that manage big bumps and navigate sharp corners. Parents can spend a lot on these strollers and it is important to purchase at a price that you are most comfortable with. The features on even the lowest priced strollers are fantastic and parents can be just as happy with our smart budget buy as they are with any of the other strollers on this list.