When you hold your little bundle of joy for the first time in your arms there could be tons of questions on your mind. It might start with selecting the right travel system. You need to invest in the right product from the beginning! If you are looking for a suitable traveling system plus a car seat then you are in the right place.
Evenflo has been around for 100 years and designs products that keep your child's safety in mind. When it comes to real-life situations, you need a traveling system that can keep your child safe and sound. Available in an attractive dusty rose color, the Evenflo Pivot Modular Travel System With SafeMax Car Seat can be a suitable addition to your family.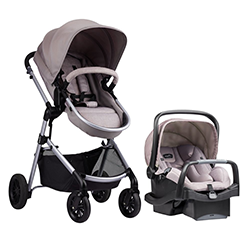 This flexible travel system is a car seat and stroller combo that you can use without much hassle. It has exceptional parent and child-friendly accessories for you to take advantage of!
Let's find out more about this travel system.
Key Features of the Evenflo Pivot Modular Travel System With SafeMax Car Seat
6 modes for the modular frame.
Convertible and foldable stroller.
Cruiser tires make it easy to move.
Removable arm bar.
Large storage basket.
Large canopy.
Body pillow.
Snack tray.
Ergonomic handle design.
Shoulder straps.
Head support for the infant.
Recline strap (multi-position).
Release button for the toddler seat.
Lightweight design and a lot more!
What makes the Evenflo Pivot Modular Travel System With SafeMax Car Seat suitable for your child?
The smart design of this stroller makes it lightweight, sleek, stylish, and easy to use. An interesting thing about this particular product is the fact that there are 6 modes available for the modular frame. So depending on your preferences you can opt for the one that you like the most! For instance, you might want your baby to face in or maybe out, in any case, you can take advantage of the reversible mode. The car seat transfer is designed to be safe and convenient for your ease.
The five-point harness and body cushion are for the comfort of your baby. What's great about this product is the fact that you can convert it into a bassinet. While you are using the car seat as a bassinet, it provides good coverage to your baby with the help of a large canopy. Just make sure you are not taking out the bassinet from the stroller when your baby is sleeping because the bassinet might collapse if you take it out from the stroller so bear that in mind. Your baby can stay asleep in the stroller in the bassinet.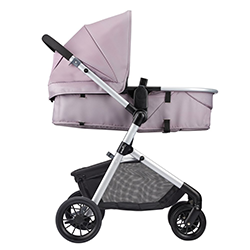 Remember that even though a product is designed to be safe for your child, it's not 100% safe. So you should bear the do's and don't in mind. Another tip is that it's important to lock both brakes individually.
The weight of the child for the stroller can be up to 50 lbs (22.6 kg). The height recommendation is up to 38-inches for the stroller. For the infant car seat, the weight range is up to 35 lbs. The car seat is suitable for infants weighing 4 lbs. The height range for the car seat is from 17-inches to 32-inches.
Will the Evenflo Pivot Modular Travel System With SafeMax Car Seat Fit In Your Car?
You can customize the traveling system as per the needs of your child. The included Evenflo Safemax car seat is mid size with dimensions of 31.4 H x 17.7 W x 16.7 D (inches). Parents find it easy to install in their vehicle. Plus, it's designed to be convenient to carry and simple to pull in and out of the car.
The car seat is suitable for kids up to 32 inches so bear that in mind. The height limit for the stroller is 38 inches. The car seat is suitable for kids from 17 inches to 32 inches.
Is Evenflo Pivot Modular Travel System With SafeMax Car Seat Easy To Install and Use?
The purpose of a travel system is to make your life easy. You don't want to wait in the queue (while at the airport) juggling with the traveling system. It should be smooth and easy, especially if you are a frequent traveler.
This travel system is designed to be easy for parents to assemble and start using. For the stroller, parents just have to unlock the stroller frame, pull up the handlebar and it's ready to use! Overall, customers find this product easy to assemble, along with being lightweight and easy to handle.
The stroller is convertible, but the process isn't cumbersome. Parents can convert it from an infant car seat frame to a stroller seat and even convert it to a carriage mode depending on what they personally prefer.


What Safety Features Are Available?
The safety of your child is your number one concern when it comes to the selection of travel systems. This travel system has a car seat that is designed to be exceptionally safe for your child. The car seat is rollover and side-impact tested with the highest marks. A helpful seat belt lock-off system helps make sure parents install it properly.
One safety feature parents really like is that the base of the car seat is available with an anti-rebound bar. Having a car seat base that always stays in your vehicle is crucial. When you are using this travel system, you don't have to wake up your infant who is sleeping peacefully in the car seat. You can simply grab the car seat and unlock it from the base and then attach it to the stroller.
The stroller has cruiser tires so navigating from one place to another is easy. It's designed to be lightweight and easy to push.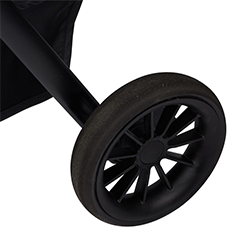 Does the Evenflo Pivot Travel System Have Convenient Features?
Parents are happy using this travel system because it has a lot of smart features for both child and family. Mom or dad can place their beverage in the cup holder or they can use it for their child. The snack tray for your child can come in handy when you want to keep the kids busy with food. It's removable so you can just take it off when you don't need it. The large canopy on the stroller can protect your kid from the sun while snacking, riding, or napping.
The oversized storage basket underneath can help in keeping a diaper bag and other helpful items inside the stroller. The stroller also has a self-standing fold, so families can store it easily between use.
Is the Evenflo Pivot Travel System a Versatile Option?
The versatile design of this stroller is one of the key features that attracts shoppers. Families can take advantage of the six seating modes such as:
The infant car seat can be front-facing or rear-facing.
The stroller seat can be front-facing or rear-facing.
The carriage mode can be front-facing or rear-facing.
This helps save families money by letting them use a single travel system for a large duration of their child's first few years.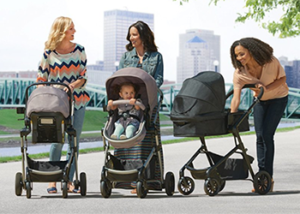 Cleaning And Maintenance
In order to keep the stroller and car seat clean, families should carefully follow the instructions on the product label and manual. For this travel system, consider the following:
Use mild soap and water for cleaning the metal and plastic parts. It's better to avoid harsh chemicals.
For cleaning the harness, it's better to use mild soap and water. You can let it air dry. Do not submerge the pieces in water.
Make sure you are not using soap or detergents for cleaning the buckle.
Make sure you are not damaging any label for the car seat or the stroller.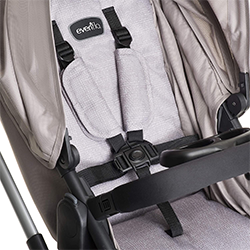 Accessories
The stroller has a number of available accessories that are included in the travel system and make things easier for parents and children. These accessories are usually removable and come in and out for easy cleaning and convenience.
Removable snack tray.
Removable body pillow.
Storage Basket (oversized).
Cupholder.
Final Verdict
Smooth maneuverability and easy push stroller that is comfortable for parents of varying heights.
Easily fold the stroller using the lock system, and it folds even when the seat is attached so it's a win-win.
If you find it a hassle to transfer your sleeping kid from vehicle to stroller and vice versa, this traveling system is ideal for you.
Carrying it is easy!
It's designed to be space-saving and that's one of the best things about this traveling system. It can be a hassle to store the strollers and car seats that arrive with your baby, but this convenient folding mechanism and self-standing design make it easier.
The infant car seat offers proven safety as it is rollover and side-impact tested.
Bottom Line
This multi-purpose travel system combines an excellent stroller with a rear-facing car seat (for infants) and a SafeZone base. It makes the entire package an exceptional baby shower gift because with this travel system you don't need to go through the hassle of getting a separate car seat for your infant. The convenient design makes this travel system a suitable addition to your growing family.