From the first moment you drive your little bundle of joy home from the hospital, you'll need a safe and secure infant car seat for them. Ideally your child will learn to sleep during car rides, so a travel system will be the easiest way to transport them in and out of the car without waking them. On the best travel systems available is the popular Graco Modes Element. It combines a versatile stroller with the SnugRide 35 Lite LX infant car seat.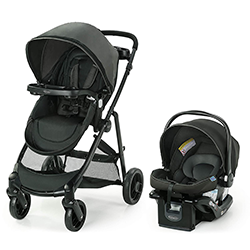 The Graco Modes Element travel system is a 3-in-1 solution, so it provides a safe infant car seat carrier for your newborn, then an infant stroller, and then a toddler stroller. Parents can save money with this solution because it works great for a newborn but also transitions smoothly for use in the years ahead. The stroller is strong and sturdy enough to safely transport children weighing up to 50 lbs.
You might be wondering if getting the Grace Modes Element Travel System is right for your family. Let's look at some of the key features to find out.
Key Features of the Grace Modes Element Travel System
The stroller has the following features:
3-in-1 stroller: infant car seat carrier, infant stroller, toddler stroller.
Fully reversible stroller seat to keep baby comfortable.
A large storage basket.
Child's tray (with cup holders).
Parent's tray (cup holder is included).
A reclining seat (with multiple positions).
Canopy with peek in window
Self-standing fold (easy and just one step.)
The car seat has the following features:
SnugRide 35 Lite LX infant car seat
A 2-piece infant head and body support.
Rotating handle and canopy.
Easy installation with LATCH or vehicle seat belt.
Adjustable base (4-position).
Level indicators (easy to read).
Exceptionally lightweight at 7.2 lbs
What are the Dimensions and Child Size Limits for the Graco Models Element Travel System?
The car seat is a SnugRide 35 Lite LX. This infant car seat is designed to be suitable for children weighing between 4 lbs to 35 lbs and up to 32 inches in height. The SnugRide is streamlined and lightweight, weighing just 7.2 lbs, and it has a nice handle that makes it easy to carry.
Car seat dimensions: 18.07 x 14.41 x 27.4 inches
The stroller is sturdy and can hold up to 50 lbs, so families can use the stroller for several years. Children riding in the stroller should be under 45 inches tall.
Stroller dimensions: 25.00″L x 35.50″W x 43.50″ H
Although the storage basket on the stroller is spacious, it does have a 10lb weight limit. Similarly, parents should not put anything more than 3 lbs onto the snack tray.
What do parents like most about the Graco Models Element Travel System?
Parents like most that this is a 3-in-1 stroller so families can use it as an infant car seat carrier, infant stroller, and toddler stroller. It comes with an available car seat base to make the newborn months easy and a proven car seat to keep them safe. The travel system then transitions smoothly into a useful stroller during your babies first few years with comfortable forward or rear facing seating. Families that don't want the hassle of buying a stroller again and again can get this travel system and not worry.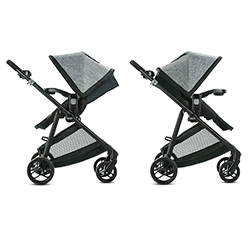 The reversible stroller seat is designed for your baby's comfort. At times your baby would love to see your smiling face while at other times your baby would love to see the world, so a reversible seat is perfect.
The stroller has good storage space below to keep the baby essentials. If you're going to the park, this stroller works great and holds your baby's diaper bag, food, and more. Plus, convenient cupholders mean you can be sipping your favorite beverage without worrying about a spill.
The child's tray is helpful and parents like that it is removable. You can place snacks for the baby on the tray or even use the seat without the tray. Parents just need to make sure that their child is properly harnessed at all times to keep them safe.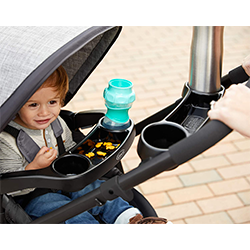 The stroller also has a nice easy "one-step" fold. The fold makes the stroller quite compact and much easier to store in a closet or trunk of your car. The fold makes it convenient to use and families can grab it and go quickly. Plus, it's self-standing when folded so it doesn't need to lean up against anything when being stored.
Is the Graco Modes Travel System Safe for Your Child?
The stroller in this travel system is strong and sturdy with good balance. It does not wobble when kids come in and out or when parents place the infant car seat on it.
The infant car seat is the Graco SnugRide 35 Lite LX, which comes from the popular, safe, and well regarded line of infant seats from the Graco brand. This infant car seat is a great choice for parents with a Graco stroller that want to create a safe travel system. The car seat keeps your child comfortable while providing good head and body support. This seat benefits from some of the key proprietary safety features developed by Graco including SnugRide performance and the ProtectPlus Engineering, which focuses on protecting your child in frontal, side, rear, and rollover crashes.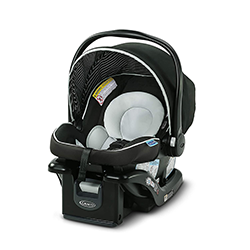 To keep your child safe always read the instructions manual carefully to be sure that you are following all directions. Leaving your child unattended in a stroller can lead to injury.
When you are placing your child in a stroller, make sure any toys you give to them are safe and don't require supervision. Also don't use the stroller on the stairs; you can use it in the elevator. If there is a step while you are walking with a stroller, be patient and take the time needed to navigate it carefully. Be extra careful when you are folding or unfolding the stroller.
Is Graco Modes Travel System Easy to Assemble and Install?
Most parents are happy with the ease of assembly. There are no tools required. One customer was able to assemble this stroller in 30 minutes with the help of two young kids while being 8 months pregnant. It shows how easy the assembling process can be!
As with any product there are a few customers who complain of it not being easy to install because experiences will vary. Overall, it seems like Graco customer service is extraordinarily helpful and always works to provide any missing parts or instructions.
Cleaning and Maintenance
Keeping your travel system clean is important, not only to keep it operating smoothly but also so that you can use it again for your next child! Cleaning and maintenance on this travel system is simple. Here are some tips:
You can use mild soap and warm water for spot cleaning areas like the seat pad.
If the wheels start to squeak, using a light oil can help but first make sure the wheels are clean.
You can use a mild soap and cool water mixture for cleaning all plastic parts. The same solution is suitable for cleaning the metal parts but be sure to dry metal parts completely to help avoid rust.
Never submerge the latch straps or harness straps or it can lead to their degradation.
Final Verdict
Parents overall seem quite happy with this travel system and it is easy to see why. Combining a solid stroller with a safe car seat makes for a system that parents can have trust in. Adding in the versatility of the 3-in-1 stroller means that families know their investment will pay off in the long run when they are using the stroller for their toddler.

Versatile 3-in-1 car seat that holds an infant carrier, or has a front or rear facing seat.
When you remove the child tray, your kid can easily hop in and off the stroller.
Easy install car seat base with a seat belt or latch system.
The car seat has an adjustable base and 4 recline positions.
The newborn head and body support systems are removable.
Stroller has an easy self-standing fold.
The canopy is adjustable.
Peekaboo window in canopy.
ProtectPlus engineering to keep your child safe.
Bottom Line
Graco Modes Travel System is a good investment for young families as it provides a rear and forward-facing stroller that can also easily accept an infant carrier to build a travel system. It has a convenient child snack tray with cup holder where mom and dad can put some snacks while the family walks around enjoying the morning. The Graco Modes Travel System with the SnugRide 35 Lite LX is a great choice for a growing family.