(updated Summer 2021)
The best lightweight or umbrella strollers are designed for travel and portability. An umbrella stroller typically weighs under 15 pounds, which is half of what a typical stroller can weigh. Lightweight strollers don't need robust folding mechanisms so parents will find them easier to open and close. Even with their smaller size these strollers typically boast strong feature sets like reclining seats, extended storage, and cupholders.
Best Lightweight, Umbrella Strollers of 2021 – Ratings and Reviews
Umbrella strollers are not as bulky and heavy as other strollers. For busy streets, stairways, and public transportation they are often a parents best option. Smaller homes might also benefit from having to only store a lightweight stroller instead of a full size. Ask parents why they use an umbrella stroller and the answer is convenience.
Umbrella strollers have several benefits, including:
Easier – for busy stores and public transportation.
Smaller storage – they fold up so small that you can keep one in your apartment or keep an extra one at grandmother's house.
Low weight– designed for portability these umbrella strollers weigh 15 pounds or less.
Feature heavy – often still boast strong features sets like reclining seats, cupholders, and suspensions.
Umbrella strollers are designed for children over 6 months old so for newborns a travel system solution is required.
Lightweight Stroller Ratings
Each of the umbrella strollers listed below received a score of 8.0 (out of 10.0) or above in our testing. We've scoured expert sites, customer reviews, product specs, and parent testimonials to break down the facts so you can make an educated decision. Don't waste precious time and energy jumping from place to place. Let us do the hard work for you so your time and money is well spent.
Whether you choose a lightweight or umbrella stroller is up to you and your family's lifestyle. Only you know what's best for your child. Browse our reviews to find the best stroller.
When you read the reviews, pay special attention to the things that matter to you as a parent. There is no one perfect stroller. Weigh the pros and cons of each product for yourself, your lifestyle, and your baby.
For example, some parents won't mind a stroller that is difficult to collapse because they'll keep it in their garage 99% of the time. For other parents who need to frequently store the stroller in a car trunk or apartment stairwell, a lightweight and easy to collapse / latch stroller is a must. Parents who ride the bus or have a small trunk might want the most compact strollers they can find. Think about what you're looking for in a stroller first. Perhaps even make a list. Then you will be ready to start shopping!
Best Seller Umbrella Strollers (2021 Moms' Picks)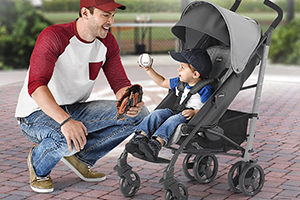 A strong combination of quality and price make the Chicco Liteway our Best Umbrella Stroller. Parents looking for a sturdy umbrella stroller that offers necessary features without breaking the bank often select this Chicco. It does not have all the fancy features found on more expensive umbrella strollers, but it delivers a comfortable seat in a convenient to collapse design.
Children riding in the stroller can choose from four reclining positions depending on if it is nap time or not. The leg rest is adjustable so that ankles and knees stay comfortable as children grow. The stroller has a rear wheel suspension to absorb some bumps but this stroller design lends to a bit bumpier ride. Rear wheels also can lock easily with a foot push button.
This stroller is lightweight at just 17 lbs. It folds up easily in a traditional manner and boasts an easily accessible carry handle on the side. It has a cup holder for parents that can get in the way when folding the stroller. At the airport you will be required to check it at the gate and get a luggage tag.
Read more in our Full 2021 Review of the Chicco Liteway umbrella stroller.
Pros
Great Quality at a Great Price
Comfortable Seat
Adjustable Leg Rest
Cons
No Zippered Pockets
Limited Color Choices
Bumpier Ride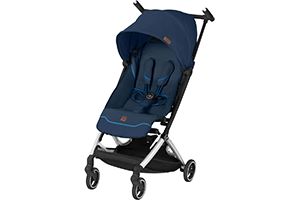 Parents love the innovative GB All City Pockit Stroller with a fold flat mechanism that is convenient and easy to use. Unlike traditional umbrella strollers, the GB All City Pockit stroller remains self standing when folded with the wheels down. This makes it especially convenient for parents who are often short handed and don't want to place the stroller flat down on the dirty ground. It comes in ten colors depending on availability.
The unique folding mechanism makes this stroller especially compact. The stroller folds compact enough that it is even a compliant piece of airplane carry on luggage, which means it can come onboard with you instead of leaving you with a claim ticket or a walk to baggage claim. Still, it is not an especially lightweight stroller at over 22 lbs.
The stroller boasts a reclining seat so that children can sit upright or lean back into it for a nap. Parents report that the seat is comfortable for their children and many use the deep recline successfully at an early age. Remember children under 6 months should never be placed in an umbrella stroller as they are not yet strong enough to hold their head up. The stroller also has a front suspension that helps to damper bumps a bit but the suspension has limited travel and will not save children from a bumpy ride on unpaved surfaces.
Pros
Folds Up Compact
Stands Up When Folded
Lots of Color Choices
Cons
Heavier Than Competition
Limited Suspension
Suspect Durability For Price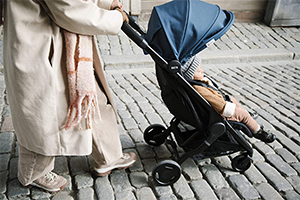 This amazing umbrella stroller from Ergobaby has everything going for it. The stroller is loaded with features and high-quality components that are best in class. This is a great stroller to take a look at and judge all other strollers against. The problem with this stroller is the price, which is comparable to what parents could expect to pay for a full-size stroller.
At this price point parents are providing their child with an extremely comfortable ride. The Metro Stroller is supportive throughout with padding in the thigh and calf area. The leg rest on the stroller is adjustable to fit your growing toddler. It also has a deep, cozy seat back that reclines quickly and smoothly so children can sleep easily.
The back wheels of this stroller are larger than the front wheels so that they can easily navigate curbs and cracks. The stroller also has a suspension system that uses springs to absorb bumps and provide a smooth ride. Parents will find this one of the easiest strollers to navigate with because it is sturdy but very lightweight at just 14 lbs.
The stroller folds up small enough to fit in most airplane overhead bins at just about 21" tall and 18" wide and 9" deep. Ergobaby brings a true premium product to market with all the features parents want and no assembly required out of the box.
Read more in our Full 2021 Review of the Ergobaby Metro lightweight stroller.
Pros
Comfortable Seating
Highly Maneuverable
Exceptional Durability
Cons
Premium Price
Limited Color Choices
Small Canopy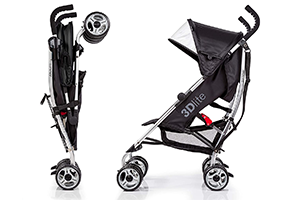 The Summer 3Dlite is a good quality, no-frills umbrella stroller. It is extremely lightweight at just 13lbs because it lacks some of the features found on other models. Still, the stroller does deliver what you need and provides it in a thoughtful, well put together manner.
The seat on this stroller is not as comfortable as other strollers but it does have a 4 position recline and kids snuggle into the stroller to nap easily. The seat has a 5 point harness to keep kids safe. The canopy is sturdy and has a nice sun visor that flips out to protect children on sunny days.
The stroller has storage underneath in a good sized basket. It does not have a zipper cover. There is pocket storage for parents in the back of the stroller along with a cup holder. Items should be removed from these areas before folding the stroller. When folded the stroller is top heavy so be careful storing it or leaning it up against a wall.
Read more in our Full 2021 Review of the Summer Infant 3Dlite umbrella stroller.
Pros
Less Expensive
Lightweight Stroller
Sturdy Frame
Cons
Tall Stroller
Seat Needs Padding
Folds Awkwardly
Buying Guide: Best Lightweight Strollers
A lightweight stroller is one of the best options for parent's so they don't have to haul a heavy set of wheels with them everywhere. Convenience and portability are the main reasons why parents choose lightweight strollers. Some babies learn to love the deep seat recline on these strollers and nap easily on long walks.
What is an umbrella stroller
An umbrella stroller is an especially lightweight stroller that folds up quickly and easily. It is called an umbrella stroller because it slightly duplicates the action of opening and closing an umbrella. Like an umbrella, these strollers collapse into small, compact bundles that are easy to carry.
At what age is it safe to use an umbrella stroller?
Children should never use an umbrella stroller before the age of 6 months. Babies that are younger than 6 months have weak neck and shoulder muscles so they cannot safely hold themselves up in the soft, unstructured backing of an umbrella seat.
Should I get an umbrella stroller?
Umbrella strollers are incredibly versatile. Parents find that they are helpful when traveling or to keep in the trunk of a car for getting around stores. Umbrella strollers are also useful for families that often take public transportation. If you have to store the strollers inside the house or in the garage where there is not lots of space then an umbrella stroller is a great option. Parents can choose from full-sized strollers, jogging strollers, umbrella strollers and more. The right choice is going to depend on what your lifestyle is like.
Conclusion: Best Umbrella Stroller
The best umbrella stroller needs to be a reflection of your child and your parenting. Take some time to reflect on how you will use your stroller and in what situations an umbrella stroller would be helpful. If it is going to be your only stroller you should probably go for a sturdy, durable version like the Ergobaby. For families that just want a compact stroller to keep in the trunk check out one of the streamlined versions like the Chicco Liteway. For any family, it can be helpful to have a stroller around that is lightweight and easy to use. Any of the strollers on our list will help make you and your baby more mobile.