The CYBEX Gazelle S stroller is an innovative, versatile stroller that is attractive and easy to push. It is a modular double stroller designed for infants and toddlers up to 50 pounds in weight. This four-wheel stroller converts easily from a single to a double stroller and supports over 20 different seat configurations to help your child have a comfortable ride. This stroller is ideal for city walks and shopping around town as it has ample storage space.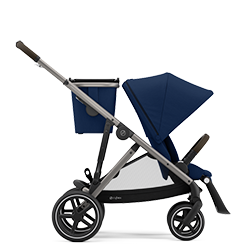 The stroller comes with a compact fold that makes storage easy. Some of the added features of the stroller include a removable shopping basket and an adjustable back and leg rest. Moreover, you can attach to the stroller any CYBEX car seat or cot for newborns, and the sibling mode allows the seats to be configured either face to face, or back to back.
Key Features of the CYBEX Gazelle S Stroller
Large rubber back wheels and pneumatic front wheels.
100% polyester upholstery that is machine washable.
Adjustable leg and backrest.
Adjustable seat that can be positioned as front or rear facing.
UPF 50+ canopy with a peek-a-boo window.
Unisex design with a sophisticated black frame.
Designed for newborn to toddlers.
Available in four colors (each with a black frame).
20+ configurations of seats.
Ideal for shopping, though it can be used for city walks as well.
Compact fold that allows for easy storage.
Compatible with CYBEX car seats.
Detachable shopping basket along with a huge storage basket.
Easily customizable with an optional second CYBEX seat or a kid board for a third child.
Can be personalized with a cup holder, snack tray, or parasol to better suit you.
What Makes the CYBEX Gazelle S Stroller Stand Out?
Functionality
The CYBEX Gazelle S stroller is a premium product that is engineered and designed in Germany to exacting specifications. The stroller feels sturdy yet lightweight and nimble. It is designed to support children weighing up to 50lbs. The removable shopping basket can carry 25 lbs and the stroller basket can carry 30 lbs so parents can get a sense of how heavy a load the frame can hold. Thus, it makes a great choice for shopping!
Designed in an ergonomic style, the stroller is easy to push with an adjustable handlebar to match each parents height. The stroller offers a near flat position for your child and the seat provides ample comfort to your baby while sleeping. The stroller has a smart, compact fold that makes it easy to store or load it in the car's boot.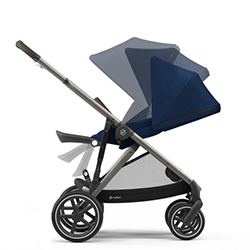 Parents often buy this stroller because it supports 20+ configurations of seats, thus enabling you to customize the stroller as per your requirement. The Cybex Gazelle S really grows with your family as it converts smoothly from a rear facing stroller to a front facing stroller to a double stroller and on. It accomplishes this without sacrificing structural integrity or feeling weak or rigidity at any time.
Ease of use
The CYBEX Gazelle stroller has an intelligent design that makes it very easy to use. The four-wheel stroller uniquely has large front wheels with 8in diameter and slightly bigger rear wheels with 11in diameter. This design makes it easy to maneuver around town and in busy shopping centers. Parents find that the stroller is a good companion while out shopping with their baby.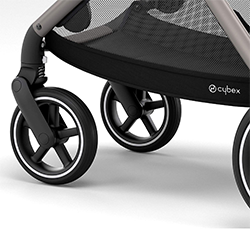 The handle bar of the stroller is covered with a soft leather and can be adjusted according to your height. It comes already installed on the stroller and the rest is easy to assemble. Out of the box all you have to do to build it is fix the wheels and the storage basket, then you are good to go. Clear assembly instructions are also available online, which makes your job easy.
Materials
The stroller is made of high-quality aluminum that provides strength and durability. The seat is comfortable and 100% polyester is used for all of the upholstery. Parents can easily wash it with mild soap and warm water. For bigger stains the fabric can be machine washed on a cold / delicate cycle and then hung dry. To ensure a smooth ride, parents should also lubricate the wheels periodically.
Dimensions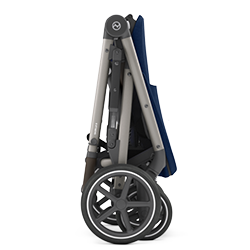 The stroller is 41.3 x 25.4 x 43.1 inches in dimension and weighs 25.2 pounds. This stroller has a streamlined design but it is a big stroller. It can carry up to a maximum weight of 50 pounds. When folded the stroller is a remarkably small 32.5 x 25.4 x 12.
The stroller weights 25.2 lbs. excluding the shopping basket and any double stroller accessories.
Additional Features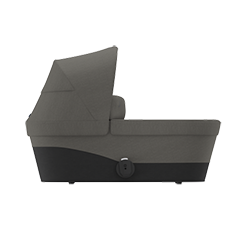 The CYBEX Gazelle S Stroller comes with a detachable shopping basket that can hold up to 25lbs. and parents love how it provides additional storage space. For taller kids, the adjustable leg rest can be tucked in behind to allow long legs to hang down and touch the foot rest. A cot is available for newborn babies.
The XXL UPF50+ sun canopy provides complete protection to your baby from the sun. The peek-a-boo window of the canopy provides breathing space and also lets you keep a watch on the baby. A cup holder is included as is a rain cover.
Final Verdict
Families that invest in the CYBEX Gazelle S stroller receive a premium product with a high end feature set. The stroller does not over promise with cutting edge gadgets but it does deliver remarkably well on the core things it aims to do. The value in this stroller comes from its versatility and that as children grow this stroller gives families a lot of travel options by easily converting into a double stroller.

20+ configurations of the stroller seat provide families versatility.
The stroller seat easily adjusts between front or rear-facing.
Converts to a double stroller by adding an infant or toddler seat.
Available in four color shades – deep black, navy blue, classic beige, and soho grey.
Easy to transform and assemble with clear video instructions are available online.
User-friendly and fuss-free adapter system for infant seat.
Easy and safe ride with a good harness system.
Detachable storage basket that provides storage space.
Raincover that protects the baby from wind and rain.
Offers a compact fold, thus making it easy to store.
Polyester seat cover that is very easy to maintain.
UPF 50+ canopy that extends far down to bumper bar for extended coverage.
The recline is almost fully flat so younger children can comfortably nap.

The stroller has a premium price attached to it.
The stroller is big and fully featured so a bit on the heavier side.
It does not have a carry handle to carry the stroller so storage can be awkward.
The stroller does not come with otherwise standard accessories like a snack tray so parents need to buy them separately.
The Bottom Line
CYBEX designed this stroller with the aim to make it a "Big City Shopper" and they deliver with a large, fully featured stroller that has lots of storage and versatility. Zooming it in and out of stores never feels cumbersome and the stroller stays light on its feet thanks to large 8 inch front wheels and premium engineering. The detachable storage bag gives parents even more options and makes this a good choice if you are out shopping.
The 20+ configuration options of the stroller seats let you personalize it as per your families requirements and it provides good value if you later adapt it into a double stroller to accommodate a second child. Since the stroller is designed to accommodate additional storage spaces and more kids down the line, it is not small or light enough to store easily or move around effortlessly on public transport.
If you are looking for an attractive full-size stroller that makes a good companion while out then the CYBEX Gazelle S stroller is a great choice.