Parents looking for a premium stroller that spares no expense should consider the Vista V2 Stroller from UPPAbaby. Transporting a child can be tedious without the right tools and this stroller puts parents ahead with market leading features for safety and comfort that help keep both parent and baby happy. This premium car seat certainly comes at a premium price, but in exchange parents get a top stroller experience.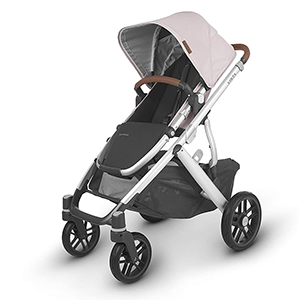 UPPAbaby puts its entire focus on building premium strollers for young children. The company is known for high-quality American made baby products that are backed by a knowledgeable customer service team and a generous warranty with 24 hour repair and replacement parts by FedEx. The Vista V2 is UPPAbaby's premium full size stroller model and it is loaded with great features that set it apart from other strollers on the market.
Key Features of the UPPAbaby VISTA V2
Some of the key features that make the UPPAbaby VISTA V2 one of the highest rated full size strollers available in the North American market include:
Telescoping leather handlebar
Height-adjustable, extendable UPF 50+ canopy with vented window
One-handed multi-position seat recline
All-wheel, shock-absorbing suspension
Easy to use front wheel locks
Five-point harness
Reversible full-size Toddler seat
Capable of easily transporting up to 3 children
Stands when folded
What Makes This Stroller Unique From Other Strollers Available in the Market?
The Vista V2 stroller from UPPAbaby boasts the innovative design, quality construction, and helpful features that parents would expect at this price point. The stroller surprises with its high level of functionality, making it one of the best options for parents of up to three children.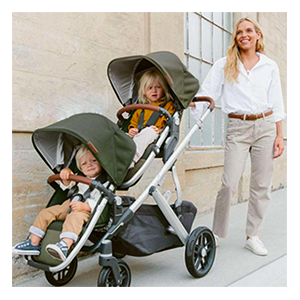 The stroller can accommodate two infant car seats, two bassinets, two seats, or any combination of that your family needs.
A rumble seat attachment for the stroller makes it easy to tow two kids around town by attaching an entire second seat to the stroller. For bigger kids a PiggyBack ride along board is available to let them come along on the stroll.
Is the UPPAbaby VISTA V2 worth its price?
What most parents are wondering about the popular UPPAbaby VISTA V2 stroller is if it is worth its price. Some parents will be quick to say the stroller is so expensive that no list of features could justify the price, but often after experiencing this stroller a lot of those parents have to agree that several things about it are truly next-level.
Comfortable and Convenient To Use
The UPPAbaby VISTA V2 is made from high-quality premium materials that provide superior comfort for your child. Its removal bassinet uses soft breathable mattresses with a vented base for added breathability and ventilation.
Its full-size toddler seat is reversible and can be reclined into 6 different positions for maximum comfort and convenience. Moreover, it features an easy-access storage bin that enables you to conveniently carry everything that you need for the day.
Superior Protection For Your Child
The UPPAbaby VISTA V2 provides superior safety and protection for your child with a strong frame and five point harness. The stroller can roll over bumps in the road smoothly using its shock-absorbing suspension, and children appreciate how much the stroller remains stable even when moving on bumpy surfaces.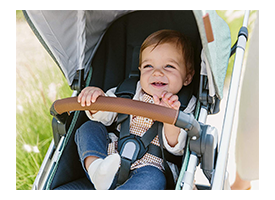 The new 5-point harness system allows you to adjust the safety straps much easier than before, eliminating one of the only complaints parents had about the stroller. Parents appreciate that the UPF 50+ extendable canopy and sunshade helps protect children from heat and harmful radiation from the sun.
Versatility and Longevity
Unlike other single stroller brands in the market, the UPPAbaby VISTA V2 enables you to carry up to 3 children at a time. Its capability to transform into multiple configurations allows you to adapt and use this stroller for a long time.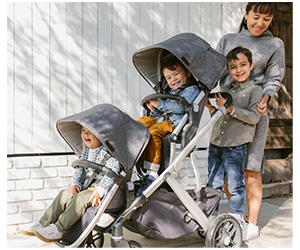 In addition, the stroller boasts top quality materials and careful construction all backed by a strong warranty. Parents who invest in this stroller will be able to count on not needing to buy another full size stroller for their family. The UPPAbaby VISTA V2 is durable, long-lasting, and highly functional.
Convenient and Comfortable Bassinet
The stroller has an included bassinet that parents often rave about. The bassinet has good ventilation and is deep enough to provide an excellent sleep solution for your child. The bassient has a breathable mattress pad with a vented base and an expandable canopy with UPF 50+ sunshade. The bassinet is easy to clean with a removable zip-out boot cover and water-repellent inner liner.
How big is the UPPAbaby VISTA V2 and what are its dimensions?
As a full size stroller boasting complete capabilities, the Vista V2 is not a small or compact stroller by any means. The size and specifications of the UPPAbaby VISTA V2 are the following:
Maximum number of users: 3
Weight Capacity: 50 lbs
Product Weight: 27 lbs (Frame and Toddler seat); 8.8lbs (Bassinet)
Maximum Storage Bin Capacity: 30 lbs
Seat Recline Positions: 6
Product Dimensions (L x W x H):
36" x 25.7" x 39.5" (unfolded)
17.3" x 25.7" x 33.3" (Folded with Toddler seat)
13" x 25.7" x 32" (Folded w/o seat)
Even though the UPPAbaby VISTA V2 is a bit heavy at 27 lbs, it feels very light and easy to maneuver even at full capacity. However, because of its size some users complain about having difficulty fitting it inside the trunk of small cars without removing the seat first.
What colors are available for the UPPAbaby VISTA V2?
The UPPAbaby VISTA V2 stroller offers parents a variety of colors to choose from which includes the following:
| UPPAbaby Vista V2 Stroller Colors | Color Combinations |
| --- | --- |
| JAKE | Charcoal fabric with carbon frame and black leather accents |
| FINN | Deep-sea fabric with silver frame and chestnut leather accents |
| HAZEL | Olive fabric with silver frame and saddle leather accents |
| JORDAN | Charcoal mélange fabric with silver frame and black leather accents |
| ALICE | Dusty pink fabric with silver frame and saddle leather accents |
| BRYCE | White marl fabric with silver frame and chestnut leather accents |
| STELLA | Grey brushed mélange fabric with silver frame and chestnut leather accents |
| EMMET | Green mélange fabric with silver frame and saddle leather accents |
| GREGORY | Blue mélange fabric with silver frame and saddle leather accents |
| SIERRA | Dune knit with blue and green fabric, silver frame, and black leather accents |
Although most varieties are readily available at major retailers like Amazon, some of them are exclusives that can only be bought in specialty baby shops.
What items are included when you purchase the UPPAbaby VISTA V2 stroller?
Buying a UPPAbaby VISTA V2 stroller first hand from a reliable store provides you with the following items in the box:
Stroller frame
Stroller wheels
Full-size Toddler seat and bumper bar
Toddler seat rain shield
Toddler seat bug shield
Bassinet
Bassinet storage bag
Every item that comes with the product is brand new and of high quality. In addition to that, items bought new qualify for the company's extended warranty. We recommend parents use caution when buying a used stroller and be especially cautious with open box items when shopping for this stroller as it might save you some money but some parents have complained about receiving dirty strollers when they purchased an open box buy.
Is the UPPAbaby VISTA V2 easy to store and assemble?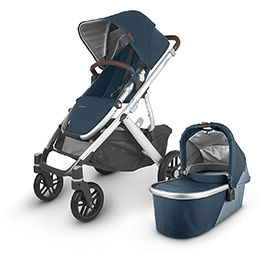 Assembling the UPPAbaby VISTA V2 stroller straight from the box is a breeze and parents will be ready to get on the move in just a few minutes. Every component of the stroller snaps easily into its proper position without the need to use any tools or equipment. Likewise, dissembling as necessary is as easy as pushing a button to release each of the individual components.
Moreover, storing the UPPAbaby VISTA V2 could not be easier as the stroller folds up in seconds. Parents appreciate the one-step folding system that lets you store this stroller in just one simple move. Also, unlike some other strollers the UPPAbaby VISTA V2 can stand upright when stored which helps save space in the house.
Does the UPPAbaby VISTA V2 stroller include a product warranty?
The UPPAbaby VISTA V2 stroller offers a two years manufacturer's warranty for all of their products and they back it up with 24 hour FedEx shipment or repair and replacement parts. In addition to that, parents can also add one extra year to the extended warranty by registering the product online within three months from the date of your purchase.
What are the accessories available for the UPPAbaby VISTA V2 stroller?
Similar to other strollers and baby products in the market, the UPPAbaby VISTA V2 offers parents a full line of helpful accessories. Some of the most popular accessories for this stroller include:
RumbleSeat
PiggyBack board
Travel Bag
Basket Cover
Snack Tray
Cup Holder
Carry-All Parent Organizer
Changing Backpack
Reversible Seat Liner
Car Seat Adapters
In addition to being able to use the Mesa infant car seat as an attachment to the stroller, the UPPAbaby VISTA V2 is also compatible with other car seat brands. However, some people complain about the need to use adapters to attach third party car seat brands such as Chicco, Maxi-Cosi, Cybex, and Nuna.
Final Verdict

Uses premium quality materials and durable aluminum frame
Comfortable mattresses and seat with multiple recline positions
Multiple configuration design (allows you to carry up to 3 kids)
Large well-ventilated canopy
Smooth suspension
One-hand steering and easy maneuverability
Large, soft tires
Extra-large easy access storage bin
Easy to use brakes with visual indicators
One-step folding system
One-handed adjustable handlebar
Easy to assemble and disassemble
3 years extended warranty

Premium price compared to competitors
A bit heavy for some people (27 lbs)
Wider than other single strollers
Requires adapters to use toddler seat and bassinet at the same time
The Bottom Line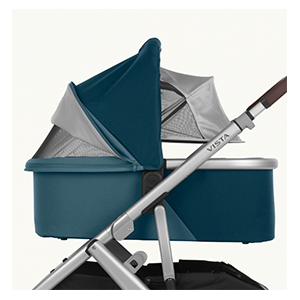 The UPPAbaby VISTA V2 is a true market leader among full size strollers and offers significant improvements in design, functionality, and overall usage compared to competitors. Its premium materials, quality construction, and well thought out features make it more comfortable and convenient to use than any other stroller in the market.
Although it is quite pricey, this stroller makes up for it with outstanding quality, durability and longevity of use. This stroller is highly recommended for those that are targeting a top-quality stroller and can afford its premium price.