The Chicco Corso LE Stroller is a popular, premium stroller that features excellent storage, highly maneuverable wheels, and attractive leather accents. The modular travel system from Chicco combines this quality stroller with the extended-use KeyFit35 infant car seat, which is highly rated by parents for its convenience and safety features.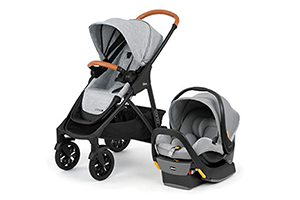 Parents like the sturdy design of this stroller and that shows with a big 50lbs weight limit. It is versatile and functions well as a parent facing and front-facing stroller that can meet the varying requirements of your growing baby. The large 10 inch rear wheels provide your baby with a smooth ride and the multi-position seat recline and adjustable footrest add to the comfort of this stroller.
The Chicco Corso LE boasts additional features including a 4-panel full coverage canopy (UPF 50+), an extra-large storage basket and two expandable bottle pockets. The Corso stores compactly and folds up easily using just one hand. All of these features make it exceptionally newborn friendly.
Key Features of the Chicco Corse LE Modular Quick-Fold Stroller
Suitable for newborn to toddler.
Multi-position reclining seat.
Strong aluminium frame.
100% polyester upholstery.
Three-position backrest.
Adjustable footrest calf support.
Forward-facing and parent facing configuration for added comfort.
Includes car seat adapter to accommodate an infant car seat easily.
Compatible with Chicco infant car seats.
Compact, and foldable stroller with a self-standing feature.
Sun canopy with a flip-open mesh panel.
Large storage basket that provides enough storage space.
Zippered pocket and large mesh pouch on the back for additional storage.
Two expandable bottle pockets.
Front locking swivel wheel and flex core rare suspension for a smooth ride.
What Makes the Chicco Corso LE Modular Quick-Fold Stroller Stand Out?
Functionality
The stroller is made of a high-quality aluminium frame that offers strength and sturdiness but keeps it lightweight and maneuverable. The parent-facing and forward-facing configurations of the stroller deliver versatility and help ensure you position the baby comfortably. The car seat adapter in the stroller lets you easily transfer the baby from the car to the stroller without waking your little one.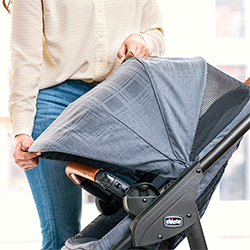 The three-position recline of the backrest lets you adjust the stroller to your baby's needs. The 4-panel zip-extend canopy provides complete protection from rain and good SPF 50+ sun protection. The storage bag beneath the seat and the backrest pocket provides enough storage space for your diaper bag.
Ease of use
The stroller is designed with a clever one-hand free-standing fold that makes it compact and easy to store. For many families that true one hand fold is a primary reason they choose this stroller. Parents can also easily convert the stroller to a lightweight car seat carrier by simply removing the toddler seat.
Pushing this stroller couldn't be any easier. The foam-filled rubber tires are large enough to overcome most sidewalk obstacles with 8.3" front wheels and 10.3" rear wheel diameter. Bumps are smoothed out thanks to the adjustable rear suspension, dubbed FlexCore by Chicco. The spring dampeners on the rear suspension have good travel without feeling too loose and the front swivel wheels glide smoothly, making it easy to push the stroller even on rough terrain.
Materials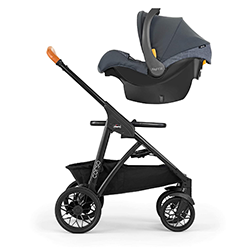 The Chicco Corso LE stroller is made of high-quality aluminium that offers strength and steadiness while staying lightweight. The frame weighs a little under 19 lbs. The 100% polyester upholstery makes it easy to clean up after your child when they make it dirty. In case of spills, all you have to do is wipe it out with soap and water, and you are good to go.
The LE edition of the Corso adds soft and attractive leather accents to the stroller. The leather is comfortable to the touch and also durable.
Dimensions
The Chicco Corso LE is a full-sized stroller but it still boasts a relatively streamlined designer that makes the stroller's dimensions 34.5 x 24.8 x 42.8 inches. The frame can fold quite compactly for storage, measuring just 15.5 x 24.8 x 32.0 inches.
The stroller weighs around 24.8 lbs with the toddler seat installed or just 18.7 lbs without it when being used as a travel system. It can hold up to 50 lbs. so it will easily accommodate the growing requirements of a young baby.
Assembly
It is very easy to assemble this stroller and it does not require any technical expertise. The front and rear wheels are removed from the frame for easy shipping, and to attach them parents have to add the rear axle, connector pin, and hubcap. The front wheels simply click right in and parents can set the swivel wheel lock using buttons on the back of them.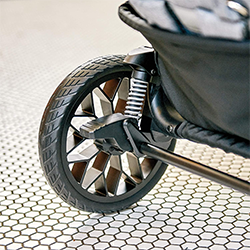 The seat on this stroller snaps in and out easily as parents move between different configurations like rear facing, forward facing, and travel system. The infant car seat adapter clicks into the same place as the seat, so it provides a secure connection that doesn't wobble.
Cleaning and maintenance
Cleaning and maintaining the stroller is rather easy as it comes with a polyester upholstery which can be wiped and cleaned. Similarly, you can also wipe down the aluminium frame with a damp cloth. As for the wheels, you should lubricate it with some good quality lubricant to ensure a smooth ride.
Heavier cleaning might require removing the seat fabric and that can be accomplished with several snaps and zippers on the rear. The fabric can be machine washed (cold water/ delicate) and should be drip dried.
Storage features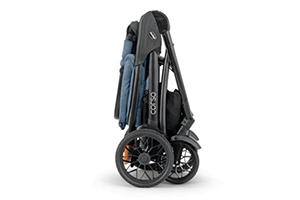 The Chicco Corso LE modular quick-fold stroller has a conveniently located storage area in the back with a zippered pocket and a large mesh pouch. Parents find this pouch to be a great place to easily store and access your keys, phone, and wallet. mobile and wallet. Additional storage is available beneath the stroller where a large basket can hold bigger items. The basket has expandable bottle pockets sewn in so that beverages can stay upright.
Final verdict
The Chicco Corso LE Modular quick-fold stroller gives parents a great option for comfortably moving around their baby during their first few years of life. The frame is sturdy, the design makes it highly maneuverable, and the wheels keep this stroller rolling over mixed terrain.
Pairing this stroller with the popular and safe KeyFit 35 infant car seat makes for a modular travel system that competitors struggle to keep up with.

Lightweight and easy to handle.
Adjusts easily between parent-facing or front-facing configurations.
Zip-extend canopy with mesh panel
One-hand fold and stands independently for compact storage.
Comes with a car seat adapter for easily fixing the car seat.
Compatible with all Chicco car seats.
Multi-position reclining seat.
Adjustable footrest.
Large storage basket that provides ample storage space.
Comfortable in all terrains with 10 inch rear wheels and FlexCore adjustable air suspension.
Treaded rubber tires that prevent tire slippage.
Attractive leather accent that provides a sleek look.
100% polyester upholstery that is easy to clean.
Energy-absorbing seat foam that provides baby extended comfort.
Accommodates young babies and growing toddlers up to 50lbs.
Easy to assemble with the instruction manual.

The stroller is available in only one shade (Hampton), unlike competing models that come in a variety of colors and shades.
The stroller can be guaranteed to hold only Chicco brand car seats like the Keyfit, Keyfit 30, Keyfit 35, and Fit2 car seat. If you have a car seat from any other brand, you have to test it first and may not be able to use this stroller.
The zippers are of inferior quality, which is frustrating as all the other parts of the stroller are of superior quality.
The Bottom Line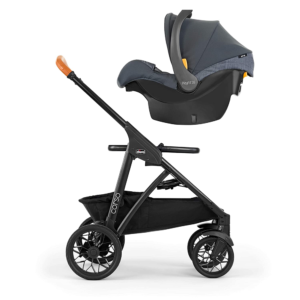 The Chicco Corso LE Modular quick-fold stroller has all of the premium features you would expect in a full sized stroller and it packages them into a streamlined design that parents feel comfortable pushing around the sidewalk or store. All the basic features of a stroller like a reclining seat, adjustable leg rest, and safety harness are here alongside more premium features like UPF 50+ canopy sun block protection and an extra large storage basket underneath.
The front locking swivel wheel and flex core rare suspension combine with large tires to ensure a smooth ride. For parents out shopping with their baby on the city street or just out for a stroll in mixed terrain, the Chicco Corso LE modular quick-fold stroller is a great choice.