The Bugaboo Fox 2 Stroller is a premium stroller from the luxurious Bugaboo brand. It is designed to be an all-terrain full-size stroller and it is suitable for children up to almost 50lbs. This four-wheel stroller has the features parents have come to expect from Bugaboo like a cozy seat, solid suspension, and near unparalleled maneuverability. An effortless one-piece fold and a compact, self standing design make it easy to store.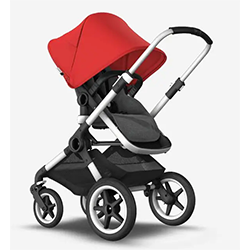 All Bugaboo strollers famously undergo a myriad of quality control tests and over 1500 safety tests to ensure that parents and children are satisfied. Besides being one of the safest strollers for your child, the Fox 2 also lets parents venture far beyond the sidewalk with all-terrain tires and a strong suspension that can tackle adventures off the beaten path.
Key Features of the Bugaboo Fox 2 Complete Full-Size Stroller
Strong aluminum frame.
Three recline positions.
5 point safety harness.
Polyester upholstery.
All-terrain puncture proof wheels
Advanced suspension for smooth ride.
Underseat basket with 22 lbs capacity.
UPF 50+ sun canopy with a wide peekaboo window.
One-piece fold with a self-standing option.
Ideal for newborn to 4 years (48.5 lbs weight range).
Available in three shades.
Comes with a bassinet and a seat. Reversible seating.
Well-engineered brakes
Easy assembly.
What Makes the Bugaboo Fox 2 Complete Full-Size Stroller Stand Out?
Functionality
This is a full-sized stroller that is made of a strong aluminum frame that can accommodate children up to 50 lbs. The all-terrain wheels and advanced suspension of the stroller make the ride easy and smooth on all surfaces.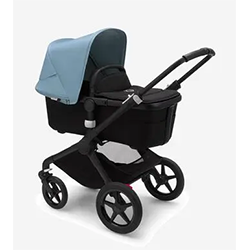 The Bugaboo Fox 2 stroller comes with reversible seating that parents switch from front-facing to rear facing depending on the circumstance. The seat placement is high on this stroller, making it easy to gently bring your baby in and out. Parents like that the under-seat basket is big enough to accommodate the baby's food, diaper, and your personal belongings. The UPF 50+ sun canopy is extendable for increased sun protection and comes with a wide peek-a-boo mesh window to make keeping an eye on the baby easy. The stroller has a typical five-point harness to keep baby safe and smart clips to avoid pinching.
Ease of use
The Bugaboo Fox 2 stroller is designed for easy pushing. Parents know that by investing in a Bubagoo stroller part of the pay off is easy, one hand steering with just a gentle push. The stroller accomplishes this in part by being very lightweight, and in fact it can be easily carried around. At the same time, with the aluminum frame it is solid, sturdy, and strong enough to carry children up to 48.5 lbs.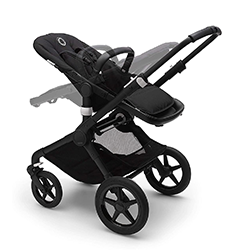 The power steering of the stroller also makes it easy to turn it and parents find it reassuring that twists won't wobble the bassinet. The well-engineered brake can be applied and released with just one tap of a foot so stopping and starting is easy as well. There is no need to push the lever upward for releasing the brake.
The improved folding button of the stroller lets you easily collapse the stroller with one hand when putting it in a trunk, garage, or a closet for storage. The stroller has a self-standing option so that even while collapsed it won't fall over.
Materials
The stroller is made strong and durable by its aluminum frame, unique chassis design, and large wheels. The rear wheels on the Fox 2 are 12 inches in diameter and the front wheels are 8.5 inches. The aluminum helps the stroller stay lightweight at just 21.8 lbs.
It is upholstered in high-quality polyester that is easy to maintain. You can easily wipe out spills and stains with soap and water. All fabrics are also machine washable (cold | delicate). The stroller requires little additional maintenance but to ensure a continued smooth ride it is advisable to clear dust and dirt from the wheels periodically and lubricate them annually.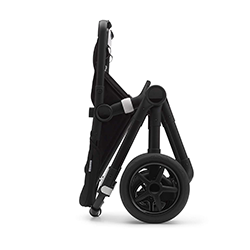 Dimensions
The stroller is 40.9 x 23.6 x 34.65 inches in dimension and weighs 21.8 pounds. The seat can carry up to 50lbs in weight and the bassinet up to 20 lbs. The underseat storage basket has its own 22 lbs capacity as well.
Assembly
The stroller is delivered in such a small box that you might wonder how hard it is to assemble. The truth is that Bugaboo has taken all of the complexity out of the process and putting the stroller together is as easy as 1-2-3.
Additional features
The stroller has a premium price but both a bassinet and a seat do come standard, so the product can be used both for a newborn as well as a toddler. The canopy lets parents keep an eye on younger children with a wide peek-a-boo window in the back. It also helps keep the baby safe with extended coverage and sun protection. Most parents will eschew the safety wrist strap on the handle bar, but this is an all terrain stroller and the strap can provide additional safety while going down trails or steep slopes.
Bugaboo brings a lot of style to the Fox2 with over a dozen different colors for parents to choose from. Parents can also purchase cup holders, footmuffs and seat liners to bring some more layers of comfort and color.
Final verdict
Parents who invest in the Bugaboo Fox 2 Complete Full-Size Stroller get a pay off from its maneuverability with one easy push, flexibility over rugged terrain, and versatility as baby grows up. Parents can save money by spending less on a stroller but for those interested in a premium experience the Bugaboo Fox 2 definitely delivers.

Lightweight aluminum frame.
Stylish look and premium feel.
Adjustable and easily reclinable seat
Available in multiple color combinations.
Folds perfectly to fit into the car.
Can be changed from a bassinet to a seat.
Well padded seat that offers ample comfort.
High seat placement makes it easy to access.
Removable seat cover that can be machine washed and cleaned.
The five point harness is safe and easy to use.
The bumper bar opens and swivels 360 degrees making it easier to take the baby out.
The canopy is extendable and reaches all the way to the toe, providing complete protection to a sleeping baby.
Spring suspension on the wheels offers a smooth ride on all terrain.
Easy to assemble. All parts snap in place, and no tools are required.

Premium price
The full recline of the seat is not completely flat.
Some buyers reported difficulty locking the wheels in place with the brake.
The rear wheels likely have to be removed if you want to fit the stroller in a small trunk.
Though it is easy to assemble the stroller, the instructions provided are not always clear.
The Bottom Line

The Bugaboo Fox 2 Complete Full-size Stroller is a good choice for families that want the freedom to comfortably voyage out onto a lot of different terrains. The stroller has best in class capabilities and market leading features that make things easy on you and your baby. Most of the negative reviews of the product are due to the high price and one-off issues due to defective products.
The power steering ensures that you can navigate the stroller with just one hand. The extendable canopy provides complete protection to the baby while sleeping. It is very easy to fold the stroller and store it. You can easily convert the bassinet into a seat as per your requirement. You can reverse the seating to make it front-facing or rear facing depending on the baby's requirement. Overall the Bugaboo Fox 2 stroller is an excellent product that your family can use comfortably for years.