Families with Baby Trend Infant Car Seats can easily create a compact, maneuverable travel system with this Baby Trend Sit N Stand Ultra Stroller. This stroller can accept two car seats, or parents with bigger kids can have them sit in the rear seat or stand in the rear on a platform. This sturdy two-in-one stroller can hold children up to 50lbs each in weight.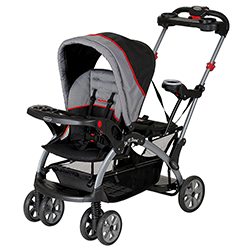 Designed for the needs of a growing family, the stroller is quite versatile with the ability to accept one or two car seats as necessary. Older children learn to love standing on the rear platform and a jump seat is available to them if they get tired on longer rides. The front seat includes a safety harness and reclines back to add to your child's comfort and safety. A large storage basket underneath and two cup holders help keep parents happy.
Key Features of the Baby Trend Sit And Stand Ultra Stroller
Suitable for infants and toddlers.
Accommodates two children – either in sitting positions, or sitting and standing position.
Infant car seats can be fixed in front and rear facing positions.
Multi-position reclining seat.
5 point safety harness.
Dual rear parking brake operated by foot.
Large storage basket that provides enough storage space.
Two removable cup holders and a covered parent tray.
Can accommodate infant car seats from Baby Trend, Graco, Snugride classic fit, and Britax to create a travel system.
What Makes the Baby Trend Sit And Stand Ultra Stroller Stand Out?
Functionality
The stroller is sturdy with a rigid frame that won't bend, rust or break easily. Kids can hop in and out of the stroller without fear that it will topple or wobble. The wheels on the stroller are placed far out on the corners for added stability, with the rear wheels featuring parking brakes. The wheels have small spring suspensions and are low maintenance but otherwise not especially helpful on any surfaces beyond pavement.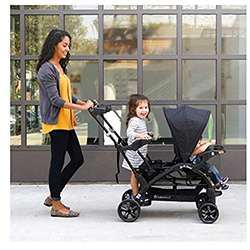 The two seats of the stroller can easily accommodate two infants or one infant and a toddler. Parents can either make both the infants sit, or make the toddler stand on the back with the infant seated in the front. A highlight of the stroller for many parents is that infant car seats can be attached to it in a front or rear facing position as per your convenience. For added comfort the stroller comes with a multi-position reclining seat, and a five point safety harness on the seat keeps your baby buckled in safely.
The rotating canopy provides protection to the baby from sun and rain. The large storage basket under the seat and the dual cup holders in the top tray provide enough space to store baby's and parent's travel essentials.
Ease of use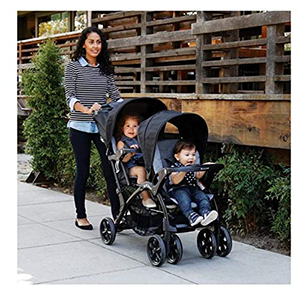 Even though it is a big double stroller, the Baby Trend sit and stand stroller is easy to push. The handle of the stroller is well padded and is ergonomically designed so nice to hold. The stroller is designed with an easy one-hand fold mechanism that is accessible on the top handlebar. Parents can easily fold up the stroller with one hand and even open the stroller and lock it open with the auto latch mechanism. The top handlebar also has two built-in cup holders to provide parents easy access to snacks and drinks.
Materials
The primary components of the stroller are the metal frame, the black plastic covers, and the fabric seat. The stroller frame is made of high-quality reinforced aluminum that is quite durable and will not rust or bend easily. The upholstery fabric on the seat pad has a plasticy feel so it can clean up easily with soap and warm water.
Dimensions
The stroller is big with dimensions of 49 x 21.5 x 43 inches. Parents will find that mostly this is cumbersome because it is a long stroller, and that comparatively the width is rarely a problem with it fitting easily through doors.
The stroller weighs 27 pounds, which is heavy but a fairly typical weight for a double stroller. The minimum weight recommendation for passengers is 4 pounds and maximum weight is two 50 pound passengers, so the stroller can easily accommodate an infant as well as a toddler.
Assembly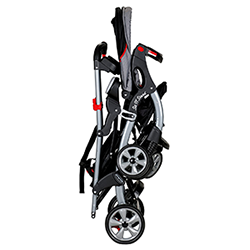 The Baby Trend sit and stand ultra stroller has a well designed folding mechanism that makes it flat and compact, so the stroller ships to you almost fully assembled. Parents just have to snap a few parts together and it is ready to use. No technical expertise nor any special tools are necessary for assembling this stroller and most families can finish the process in under 10 minutes time.
Additional features
The Baby Trend Sit and Stand Ultra stroller comes with a helpful child tray / cup holder that is removable so that it can be used in either front or back positions. Two removable cup holders are also included to hold children's drinks. The two parent cup holders are located up top on the handlebar and let you carry hot drinks where kids can't reach them. Storage for a diaper bag and other essentials is available underneath the seat.
Final verdict
Families that buy the Baby Trend Sit and Stand Ultra stroller are often rewarded by its versatility and find themselves using it far into the future in combinations they maybe never imagined. Parents enjoy the flexibility with infant car seats and using this as a travel system, while many children fall in love with the jump seat and enjoy standing up close to mom or dad while they push.

Pros

Double stroller for two infants or toddlers up to 50lbs each.
Easy maneuverability. Fit easily through a normal door.
The front seat can be adjusted to a reclining position.
Spacious seating that adds to its safety.
The harness belt can easily be opened and closed with one hand.
The cup holder/ tray can be removed easily to accommodate the car seat.
Rotatable canopy that provides protection from the sun.
The peek-a- boo window of the canopy lets you keep an eye on the baby.
The car seats can be fixed in the front or rear facing position.
Accepts several different infant car seats from all brands to form a travel system.
One-hand fold and self standing with an auto lock mechanism.
Easy to assemble with no tools necessary.
Cons

No adjustable leg rest for the front seat.
Limited choice when it comes to colors with only two colors – Millennium and morning mist.
The stroller is on the heavier side owing to the double seat.
The stroller does not come with an infant car seat. It needs to be purchased separately.
Though the stroller is compatible with car seats of most brands, the Chicco Keyfit 22 and 30 car seat models will fit only in the rear seating position.
The seat cannot be reclined fully in a sleeping position so it is not suitable for a newborn.
One customer reviewed that the back seat is very close to the cup holder. Thus, if you place any hot beverage on the cup holder, you should be extra careful.
The storage basket is made of a thin mesh material that sags when you put heavy things on it, and the basket is difficult to access if the seat is in a reclining position.
Some parents complain that the rear brake is difficult to engage and disengage. They end up using their hands instead of their feet to apply the brake.
The rear canopy is small and covers only the baby's head. Though the front canopy is rotatable, it is not much help when it rains.
Plastic front wheel that makes the stroller wobble on uneven surfaces.
Handle bar is not adjustable up so tall people might need to bend down a bit to use the stroller.
The Bottom Line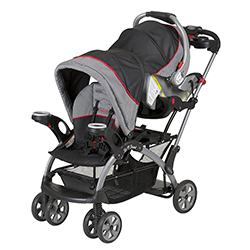 The Baby Trend sit and stand ultra stroller is a budget friendly double stroller that is much more maneuverable than its competition. It comes with all the features you would find in a double stroller like two seats, canopies, storage basket and cup holders. The stroller also has an awesome standing platform for older kids. You can easily ride this stroller down the sidewalk knowing that the safety and comfort of your babies is taken care of.