Jeep brings a sturdy, reliable stroller to market with their Jeep Scout Double Stroller. Boasting quality components but lacking some high-end features, this stroller is a good mid-market buy for families interested in a dependable stroller that can take a beating. The Jeep Scout double stroller has dual extendable canopies with sun visors, double canopy bags for storage, and a parent cup holder. The front swivel and suspension system ensures that your baby gets a smooth ride while on the go.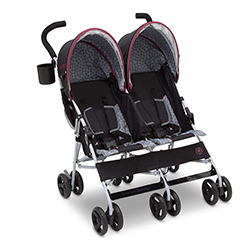 This double stroller has a strong, rigid frame and it can hold up to 70 pounds weight, with 35 pound capacity for each seat. It comes with a multi-position reclining seat and five-point safety harness made of reflective materials that helps ensure others can see you and your baby even when it is dark outside. Parents get peace of mind knowing that the product is JPMA certified and follows all the guidelines put forward by standards developer ASTM international.
Key Features of the Jeep Scout Double Stroller
A lightweight double stroller.
Can be used for both boys and girls.
Suitable for newborn to toddler up to 36 months.
Swivel front wheel and suspension that ensures a smooth ride.
Multi-position reclining seat.
Easily foldable and stores compactly.
Available in three colors – Charcoal galaxy, lunar burgundy and spot on.
Five-point safety harness with a soft pad on the shoulder.
Reflective material on the harness and piping that ensures the baby's safety.
Extendable European style canopy with sun visor.
Step brake near rear wheel for ease of use.
Two rare canopy bags and two pockets that provide good storage space for baby essentials.
Parent cup holder for holding bottles and cups.
Meets Disney size requirement.
What Makes the Jeep Scout Double Stroller Stand Out?
Functionality
This a highly-functional double stroller that is lightweight and easy to push. The stroller comes with a 5.5-inch diameter front swivel wheel that provides easy maneuverability. The efficient suspension system absorbs shocks and provides a smooth ride to your babies. The multi-position reclining seat lets you adjust the stroller as per the requirement of your babies.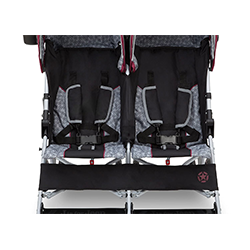 The extendable canopy provides good protection to your babies from sunlight. For added protection, the canopy comes fitted with a sun visor that prevents sunburn and harsh light. The stroller comes with a nice reflective material that ensures the safety of you and the baby. The parent cup holder on the side of the stroller lets you keep your bottle while on the go.
Ease of Use
Though a double stroller, the Jeep Scout stroller is easy to use. The stroller is lightweight and easily fits through a standard 30-inch door. The front swivel wheel offers good maneuverability and parents find that they can navigate it well through crowded streets.
It can be folded when not in use and compactly stored under the bed or in a closet.
Assembly
It is rather easy to assemble this double stroller. The stroller is well designed so all you have to do is to put on the wheels and it is ready to go.
Dimensions
The dimension of this stroller is 23.4 Inches D x 29.9 Inches W x 37 Inches H so it is compact for a double stroller. The folded dimensions are quite remarkable at 13 Inches X 11.2 Inches x 42.1 inches.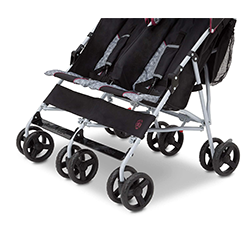 The total weight of the stroller is 18.3 pounds which is quite lightweight compared to even some single strollers. Despite being lightweight the stroller is strong and can safely hold up to 70 pounds, with each seat having a capacity to hold a 35 pound child. Parents can easily fit twins in this stroller from infancy to their toddler years.
The stroller comes with 5 ½ inch diameter wheels on the front and back and middle. The six sets of wheels helps contribute to the overall stability of the stroller and keeps it from wobbling when carrying bigger kids around.
Cleaning and Maintenance
Maintaining the Jeep Scout Double Stroller is rather easy due to the fabric having more of a plasticy feel. All parents need to do is to wipe the stroller with a damp cloth periodically to keep it clean. As for the wheels, parents should lubricate them annually to help maintain a smooth ride.
Additional Features
The Jeep Scout double stroller comes with canopy bags on both seats for extended storage. Some parents really like how the dual canopy bags help parents store their baby essentials separately if necessary. The 5 point safety harness comes with reflective material to help people easily notice you and the baby even when it is dark.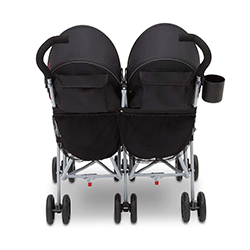 Jeep also has some great optional accessories available for this stroller, like a mosquito net to protect your baby on summer nights.
Final Verdict
The buyers of the Jeep Scout double stroller are looking for a lightweight but sturdy and dependable double stroller and Jeep does not let them down. The Scout stroller is rugged and dependable. It is not equipped with the sort of tires to take it far off the beaten path, but with its twelve wheels it will keep on rolling.

Solid structure but not too heavy. You can easily load it in a car.
Available in three shades – Charcoal galaxy, lunar burgundy, and spot on.
Takes away the need to have two separate strollers.
Ride smoothly on most of the terrain, including grass and gravel.
Distributes the weight of the kids evenly, so it is easy to push the stroller.
Lightweight and easy to handle when compared to other double strollers.
Multi-position reclining seat that is spacious. Thus, children can sit and watch the surroundings or lie down and nap while on the go.
Five-point safety harness with padded shoulder strap. This provides ample safety and comfort to the baby.
The reflective material on the safety harness and piping makes both you and the baby visible to others even in the dark.
Both the seats recline separately. So you can adjust it according to each of your baby's requirements.
More compact when compared to other double strollers.
The stroller meets the Disney size requirement, so you are allowed to bring it into the park.
Convenient and sturdy cup holder.
Though the handles are not adjustable, they are easy to push and do not cause any discomfort to the user.
Both seats have a separately adjustable canopy.
The double canopy bags and back pockets provide abundant storage.
Reasonably priced.

Cheap and flimsy looking.
The tires are made of plastic, and the middle tire can twist and become wobbly at times.
Though the seat is multi-reclining, it does not recline fully. To use this stroller, the baby should be able to sit properly.
Canopy is a European style so much more limited in coverage.
The stroller does not have a tray holder like other strollers.
No peek-a-boo window on the canopy to keep an eye on the babies.
Some buyers have reported that steering is not easy with two kids. The front swivel wheels do not always turn easily when there is someone in the seat.
The stroller does not accommodate a baby car seat.
The handle of the stroller cannot be adjusted, so tall parents might find it uncomfortable.
The stroller is designed to go through a standard size door, but you might need to pull out the cup holder to fit through the door easily.
Some buyers complained about the brake becoming difficult to lock over time.
The stroller has only one parent cup holder and most families would prefer two.
The Bottom Line
The Jeep Scout has all the core features parents are looking for in a double stroller with two reclining seats and a five-point safety harness with a padded shoulder strap. The added features of the stroller include two separate canopies, two storage bags on the backside and a parent cup holder. The swivel wheels on the front and the suspension system offer a smooth ride but not one comparable to tandem double strollers with larger diameter wheels. The stroller is lightweight and easy to fold, so families can store it in the closet or trunk of the car.
The Jeep Scout double stroller makes an ideal companion for your everyday errands and it is the type of stroller families can travel with and not have to fret if it gets a little banged up.