Traveling as a family with multiple kids in tow is not always easy, but the Graco Modes Duo Double Stroller has been designed to make it so much simpler. It delivers incredible versatility to parents with 27 different ways for your children to ride along. You can easily personalize it to suit your family by using a combination of either the Graco infant car seat, toddler seat, standing platform, or bench seat.
Room For Growing Families
You can strap your child securely into this stroller using the convertible 3-or-5 point harness. With both seats able to withstand 50lbs of weight, families know that this stroller can grow with them. The standing platform in the rear not only provides space for bigger children to travel, but it also is equipped with additional wheels for easy maneuverability. For increased maneuverability the stroller has a complete locking front swivel wheels as well.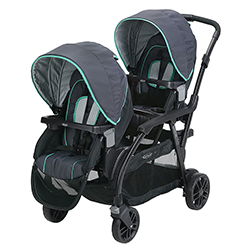 There is plenty of room for storage thanks to the naturally larger footprint of double strollers, with the extra-large basket providing plenty of space for diaper bags and groceries. Parents also won't go thirsty on long days out with the dual cup holders there's space to hold drinks for the whole family.
Affordable and Functional
When juggling multiple children, keeping hands free is essential. Thankfully the Graco comes with standing one-hand fold for ease of use when out and about. Of course, double strollers are generally larger, but the slimline design folds surprisingly compact. This stroller also easily fits through standard size doors and meets the Disney size requirements for those important memory-making trips!
Be mindful that though it may be slim, it is still quite a bit larger than a full size stroller and will require more space in your trunk. Those of you with smaller cars, be sure to check the specifications further down to make sure it will fit before purchasing. With that in mind, this affordable and stylish stroller definitely ticks a lot of boxes for larger families, especially those with twins! Read on for the full breakdown of key features and our full review.
Key Features at a Glance
27 ways for your children to ride from infant to youth
Accepts two Graco Click Connect infant car seats
Comes with two, reclining, removable toddler seats
Standing platform and bench seat for older children to ride
One-Hand standing fold with seats on or off
Locking front swivel wheels
Convertible 3-or-5 point harness with removable covers
Designed with extra wheels for easier maneuvering
Extra-large storage basket
Both seats hold up to 50lbs weight for long-lasting use
5 cup holders including, including parent cup holder
1-year warranty
The Details
Aesthetics
The Modes Duo is available in 3 sleek and stylish colors and designs. The "Balancing Act" colorway features clean, black, fabrics, finished with a white interior canopy and polka dot detailing. The "Basin" option offers a medium grey exterior, with a lovely geometric interior print and striking blue edges. Finally, the "Shift" comes in a lighter grey fabric, styled with a subtle silver geometric pattern and solid black interior seats.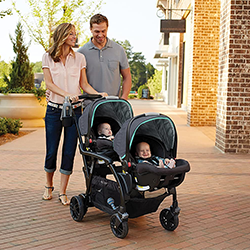 Functionality
If you are looking for a stroller that you can tailor to suit your growing family then the Modes Duo is a fantastic choice with its 27 riding options for your children. With multiple children in tow, parents are grateful for the huge storage basket built into this stroller. The only downside on the storage basket is that some parents have commented it can be tricky to access it from behind when a rear seat is reclined.
Despite the additional size and extra-large storage, this stroller does not compromise on maneuverability with its slim-line design and added wheels. Most parents have praised that the Modes Duo makes traveling a breeze, feeling lightweight and easy to push. The one-hand fold is a handy feature that keeps the other hand free for parents juggling children, bags, and keys.
Material and Build Quality
When purchasing a stroller you want to be assured of its strength and durability, that it will last through many family outings, school drop-offs, or days running errands. The hardware on this stroller is made from a combination of plastic and metal, which is both strong and resilient. This is a durable stroller that will last. However, some parents have reported that it can feel clunky, and can be quite noisy when pushing.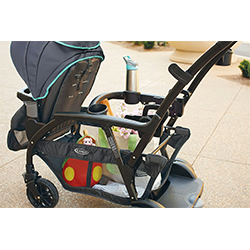 Dimensions and Specs "Will this fit in your car?"
As is the problem with most twin-strollers the ability to transport two children does come with an increase in size and weight compared to single strollers. Be sure to check the dimensions below against the space available in your car, parents with smaller trunks have reported difficulties fitting the stroller. In addition to this, the weight does make it harder to lift and store.
Stroller Dimensions
Unfolded: 46" L x 25.5″ W x 45″ H
Folded: 50.5″ L x 24″ W x 19″ H
Seat space: 7.5"
Seat back: 17"
Stroller weight: 42 lbs.
Front/Rear seat max hold weight (each): 50 lbs.
Rear-wheel size: 8.5"
Front Wheel Size: 7.5"
Be mindful that the more space in your trunk the stroller takes up, the less room you will have for groceries, changing bags, or whatever else you need to move from A to B. Although it may fit, too tight of a squeeze might not be practical. That being said, the stroller does fold compactly and many parents had no issues with their particular make and model of car.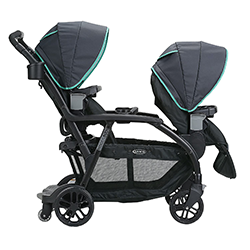 Installation and Assembly
The variety of configuration options do require some amount of assembly, however, Graco supplies a full list of instructions to help guide you through the process. Thankfully the snap-on wheels and click connect one-step seat attachments make setting up your stroller relatively smooth and stress-free. Customers have a varying range of experiences but overall seem happy with the assembly.
Cleaning and Maintenance
The Modes Duo is relatively easy to clean, parents just need to follow the care instructions on the tag for the seat covers. The seat pads can be spot cleaned with mild soap and warm water, the same can be used to surface the harness straps and latch. Never fully submerge the straps in water as it can lead to their degradation.
The hardware should be checked occasionally for loose screws, wear and tear, or damage. Remember that new parts are available to purchase from Graco, as customer service provides replacement parts. If wheels begin to squeak simply apply a light oil to the inside of the wheel axle.
Finally, avoid too much sun exposure to limit fading to the materials, and if taking a stroll along the beach ensure all sand and salt residue is removed. If you get caught in the rain, open the canopy and allow it to completely air dry when the rain subsides.
Accessories
Graco provides parents almost all they need as standard features, and subsequently does not have a wide range of custom accessories available for the Modes Duo. However, based on buyer reviews, here are some suggestions of universal accessories that you may wish to purchase.
Stroller Organizer – Many parents commented that the extra-large storage basket can be difficult to access. A universal stroller organizer can be clipped onto the handles of the Modes Duo to provide an area to keep essential items you may prefer easy access to; such as your phone, wallet, or keys.
Tandem Stroller Rain Cover – Protect your little ones from the wind and the rain during the winter months with a universal rain cover, offering weather-resistant protection that the built-in canopy cannot match.
Final Verdict
Parents like the Graco Modes Duo Double for its myriad of seating options. It is a double stroller that gives families a solution that hauls a lot of gear and a lot of kids comfortably.

27 easy to ride for incredible versatility
3 stylish colorways and designs
Extra-large undercarriage storage for carrying lots on the go
Slimline to fit through standard doorways with ease
Perfect for twins or growing families
The harness can convert from 3 to 5 point
Can be used with Graco Click and Connect car seats for quick and easy travel
Easy to push and steer

Reported as noisy by some parents
Large and heavy making it difficult to lift and store
Build can feel quite "clunky"
Materials are hand wash only
Storage can be difficult to access
The Bottom Line
Overall the Graco Modes Duo is a solid choice for families that find themselves traveling with multiple children. While you will experience the standard issues that come with a larger stroller, such as a larger size and heavier to lift, the stroller has a clever design that folds rather compactly. For the and its sturdy design, you are guaranteed longevity of use as your family grows. If you can look past the slightly louder noise when pushing than some other strollers, the versatility and convenience that the Modes Duo offers makes this affordable stroller a great option.