The Ergo 2020 Metro Lightweight Baby stroller is a compact, lightweight stroller that serves as a strong and sturdy travel companion for babies and children up to 50lbs. This four-wheel stroller is small enough to fit on the bus, subway, or even the overhead bin, but do not let the small package fool you. This stroller is packed with features and has an intelligent design that competes with even full-size strollers in comfort for you and your child.
The aluminum frame on this stroller creates a sturdy base so pushing it is easy with just one hand. The tires roll smoothly over cracks in the concrete thanks to larger back wheels and a spring suspension that helps absorb some of the bumps. The seat on this stroller has plush, cushy padding for added comfort and there is a deep seat recline and adjustable leg rest to help keep your child comfortable.
Parents frequently choose this stroller because it is shockingly lightweight at less than 15 lbs and has an exceptionally compact fold. Some of the stroller's fun custom accessories that parents like adding include a soft belly bar, an all weather footmuff, and a weather shield. The stroller also has available a clever carry bag that makes carrying the stroller on the go easy.
Key Features of the Ergo 2020 Metro Lightweight Baby Stroller
Ergonomic design that is comfortable to push.
Compact, lightweight, and small stroller ideal for bus and subways.
Available in four attractive colors, each with a black frame.
Spring suspension, large back tires, and upgraded wheel bearings.
Plush, and cushy padding that provides good support to the head, back, and bottom.
Removable seat pad for easy cleaning and maintenance.
Reinforced aluminum frame for added support.
Rugged UV 50 protection sun canopy.
Deep, almost fully flat nap positioning for baby.
Adjustable leg rest.
Underseat storage basket and zippered seatback pocket to keep on-the-go essentials.
No assembly required.
2 Year Warranty protection
Available carry bag for easy carrying on the go.
What Makes the Ergo 2020 Metro Lightweight Baby Stroller Stand Out?
Functionality
The Metro stroller has an ergonomic design that makes it easy to grab hold of and push. The stroller comes with a reinforced aluminum frame that gives it a sturdy feel and supports a surprisingly stout 50 lbs maximum weight. The spring suspension on the stroller absorbs some of the bumps along the way but it has a limited amount of travel. The rear tires are a bit larger than the fronts so it performs quite well on sidewalk cracks and mixed terrain for an umbrella stroller.
It does not have quite as smooth of a ride as a full-size stroller and it is not as quick on the move as a jogging stroller. What it does offer is a small package and a clever design that allows it to fold up small enough to even fit on the airplane overhead bin.

Even though the stroller is compact it still has a number of features to keep baby comfortable. The Ergo 2020 Metro Lightweight stroller offers a deep recline on the seat and also adjustable leg rests so your baby can stretch out to have a nap. The rugged UV 50 protected sun canopy offers excellent protection from UV rays and rain while also keeping it dark and quiet during naptime. For parents convenience, the under-seat storage basket and zippered seatback pocket provide ample space for storing the baby's essentials.
Ease of use
The Ergo 2020 stroller is lightweight, small, and compact. Thus, it is very easy to use. The stroller's one-hand folding mechanism and the carry bag that comes along with it make it easy to fold and carry in buses, subway or aircraft. Thus, the Ergo 2020 Metro stroller makes a good travel companion.
Moreover, since the stroller is so compact it arrives as a fully assembled piece with no assembly required. The stroller is ready for use. All you have to do is to take it out of the box and unfold it.
Material
The reinforced aluminum frame of the stroller provides strength and sturdiness. The stroller is upholstered in high-quality fabric with 25mm of plush padding underneath. It can all be cleaned with soap and warm water. You can also remove the seat pad and machine wash it when necessary (cold | delicate | hang dry). To maintain the smooth ride, all you have to do is keep this stroller clean and lubricate the wheels periodically.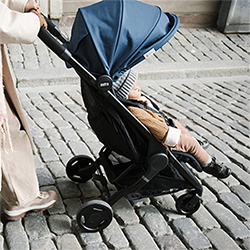 The wheels on this stroller are PU rubber tires, so while they are puncture free it will provide a bit bumpier ride for your little one.
Dimension
The stroller is 21.5 x 18 x 9 inches in dimension and weighs just 14.8 pounds. Thus, it is about as lightweight and compact as a stroller can be. Most other strollers this size compromise on features and quality but this stroller does not and can carry a maximum weight of 50 pounds.
Additional Features
The highlight of this stroller for a lot of families on the go is the almost fully-flat nap positioning for babies. The stroller combines a deep recline option on the seat with an adjustable leg rest to really let your child stretch out and nap when necessary. With its smart design the stroller does not get wobbly even when baby is asleep in this position. For newborn babies an optional kit is available to convert the stroller into a classic pram for use from day 1.
Optional Accessories
The Ergo 2020 Metro stroller has available a number of nice add-on accessories and one of our favorites is a soft belly bar that baby can hold onto while on the go. They also make a footmuff that attaches to the stroller in the winter months to provide better all-weather protection. It comes with water-repellant fabric on the outside and premium fleece inside that provides a warm and cozy feel to the baby. For other seasons a weather shield is available that attaches to the stroller and protects the baby from rain and wind.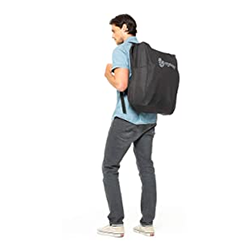 Final verdict
Parents frequently buy the Ergo 2020 Metro Lightweight stroller because they want a compact stroller that can keep them on the go without compromising your child's comfort. This stroller does not disappoint with a good balance of features that let children rest in it comfortably while not burdening parents with a large, unwieldy, heavy full size stroller. Between the light weight and compact fold it is an exceptionally small package and an excellent choice for many families.

Compact, lightweight, and easy to use. Great choice for public transport.
The spring suspension offers a smooth ride even on an off-road stroll.
Reinforced aluminum frame offers stability.
Available in three attractive shades – Black, grey, and marine blue.
Offers a compact fold with one hand.
The carry handle at the middle of the seat makes it easy to carry.
Cushy seating that offers ample comfort.
Removable seat pad that can be machine washed and cleaned.
Small pockets on the seatback provides additional storage space.
The parking brake pedal is conveniently located in the middle of the rear axle.
Optional backpack carry along for stroller is surprisingly comfortable and easy to use. The straps are well padded and do not become loose.
Available newborn kit converts stroller to a classic pram.

Though the seating is well padded, it is a bit small and narrow. Some kids need to pull the leg rest up to make enough space on the seat.
Canopy does not provide great protection for taller kids.
Removing the cover for washing requires numerous small straps here and there.
The stroller storage basket is small. It can hold only a diaper bag and a wallet.
The canopy hood sometimes hits the handlebar when pulled back.
The buttons to adjust the footrest can be a bit difficult to push in.
The Bottom Line
The Ergo 2020 Metro lightweight stroller is the right choice for families that want a compact stroller that still provides a sturdy, comfortable ride. If you are a regular traveler in airports or on public transport then this could be a great choice. The stroller's compact design makes it easy to fold and load whenever you are on the go. The major drawback of this stroller is that since it is designed to be small, the seat and storage basket will not quite rival those of a full size stroller.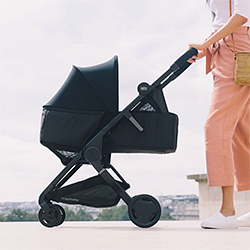 The canopy provides good protection from the sun, and optional all-weather accessories help protect the baby from rain and snow. The backpack that is available for the stroller makes it easy to fold and carry it.
Families that are looking for a stroller that won't hold them back should consider the Ergobaby Metro. If you are looking for one stroller that is lightweight, small, and handy while still keeping baby comfortable then the Ergo 2020 Metro lightweight stroller is the right choice.