For families that are frequently out jogging or running a good stroller is key. One jogger that is worth taking the time to consider is the Chicco Activ3 Air Jogging stroller. This three-wheel stroller comes with a unique control console on the handlebar that includes a hand-operated swivel and also a brake for added convenience. The foam-filled tires and adjustable flex-core suspension offers a smooth ride on all terrain.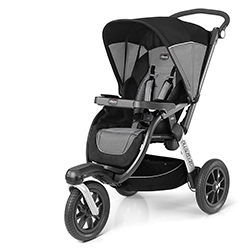 The Chicco Activ3 Air jogging stroller has a gooseneck design that is unique among jogging strollers. The result is a strong frame that is exceptionally sturdy and can accommodate kids up to 50 pounds. Additional features include an extendable canopy, a parent tray with two cup holders and a large storage basket. Adding to the stroller's functionality is a one-hand fold mechanism that is easy to use.
Key Features of the Chicco Activ3 Air Jogging Stroller
Control console with hand-operated swivel wheel.
Hand-operated brake that locks and unlocks the swivel wheel.
Padded and four-position adjustable handle.
Foam-filled tires that won't go flat.
Foot activated flex core suspension for a smooth ride on all terrains.
Compact and one-hand fold with three-fold mode for standing, storage and trunk.
Four-position reclining seat with 3D air mesh backrest that can be operated with a lever.
Padded five-point harness and padded leg rest.
Wrist strap that prevents accidental rolling of the stroller.
Removable bumper bar.
Removable parent tray with two cupholders and a small storage area.
Zip-extendable canopy made of water-resistant fabric.
Large storage basket that makes it travel friendly.
Compatible with all Chicco Keyfit and Fit 2 car seats.
What Makes the Chicco Activ3 Jogging Stroller Stand Out?
Functionality
Joggers love running with this stroller. The Chicco Activ3 jogging stroller comes with a foot-activated FlexCore suspension and foam-filled tires that offer a smooth ride. The stroller is easy to push and whether you are using the stroller in a smooth city street or rugged terrain, your baby will feel comfortable inside. The removable bumper bar protects the baby and creates a comfortable safe zone.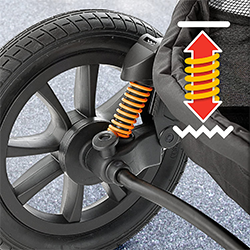 Parents like that the stroller comes with a reclining seat with a 3D air mesh backrest that provides ample comfort to the baby. The extendable canopy is made of water-resistant fabric to protect the baby from sun and rain. The parent tray has two cupholders, and a small storage area provides enough space for storing your small personal items. In addition, the stroller has a nice storage basket underneath the seat for storing a diaper bag and some toys.
Ease of use
Sometimes jogging strollers can be overwhelming but this is a relatively compact stroller that parents can fold with one hand. A unique feature of this stroller is the three-mode fold, where parents can fold the stroller in standing, storage and trunk position. Thus, whether you want to place the stroller in the corner of the room or load it in the trunk, it is relatively easy.
A key feature of the stroller is the control console, which offers parents easy access to a hand-operated brake and controls for the swivel wheel. You can easily lock or unlock the wheels and change the swivel with the touch of your fingers. Therefore, unlike other strollers, joggers do not need not stop their run to fiddle with the wheel or apply the brakes. Joggers like that the stroller lacks a foot pedal because on other jogging strollers the brake pedal can obstruct their stride.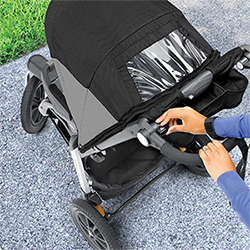 The handle of the stroller is comfortable and easy to push. You can adjust the padded handle of the stroller to four positions, according to your height. The adjustball handle helps people of all heights run comfortably with this stroller. Mom and dad can both run with this stroller and enjoy it. The stroller also comes with a wrist strap that provides peace of mind, better control, and can help prevent the stroller from rolling over.
Materials
Chicco has a strong reputation for durable and reliable baby products. This stroller is no exception. The Activ3 Air jogging stroller is made of lightweight aluminum that can withstand rough usage and long runs. The stroller will not rust and can stand up to harsh weather. The extendable canopy is 100% waterproof and provides complete protection to the baby.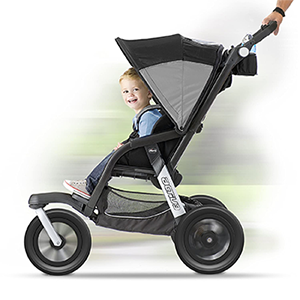 On warm days your baby will appreciate the seat fabric, which is made of a breathable 3D AirMesh that allows for improved ventilation through strategically placed airflow channels.
The stroller has 12" inch diameter wheels on the rear and front. The tires are foam filled so they might be a bit bumpier than air filled tires but have a lot less maintenance.
Dimensions
The dimensions of the stroller are 47.5 x 25 x 42 inches. It weighs around 27.5 pounds and can carry 50 pounds of weight. Thus, you can carry a newborn, infant and toddler in this stroller.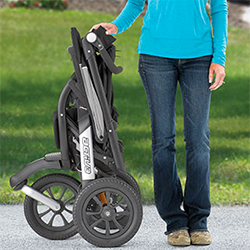 The stroller weighs 27.5 lbs so it is not extraordinarily lightweight. Parents appreciate the solid and sturdy feel of this stroller and that it stays glued to the road.
Cleaning and maintenance
It is relatively easy to clean this stroller. You can remove the seat pad, and hand wash it alongside the rest of the parts with mild soap and water. Do not use harsh material as it can affect the quality of the fabric and cover.
It is recommended to wash the three wheels periodically to get rid of dust and dirt. Wheels should also be lubricated annually to ensure a smooth motion.
Additional Features
The Chicco Activ3 jogging stroller is compatible with Chicco Keyfit and Fit 2 car seat. All you have to do is remove the car seat and snap it in place in the stroller. Thus, you can easily transfer the baby from the car to the stroller without waking him up.
Final verdict
Parents who buy the Chicco Activ3 Air Jogging Stroller quickly learn to love the center console controls and sturdy feel. This jogging stroller moves smoothly down the road and keeps your child comfortable inside with a reclining seat and ventilated backrest.

Strong and sturdy structure made of aluminum.
Center control console for brake and front wheel pivot.
One-hand reclining seat that provides ample comfort to the baby.
Breathable backrest that provides good ventilation.
Flex core suspension that offers a smooth ride on all terrain.
Foam-filled tires that do not go flat even on rugged terrain.
A tall seat back that is ideal for tall babies.
Quick release wheels make for easy storageEasy to fold into three positions – standing, storage and trunk position.
Canopy with a peek-a-boo window to check on baby.
Compatible with Keyfit and Fit 2 car seat.
Large storage basket easily accessible from all sides.

Stroller has an average look and feel.
Some joggers find the stroller a bit heavy compared to other running/jogging strollers, making it a bit hard to load it into the car boot.
Few even complained that the stroller is big for city walks.
Is not compatible with car seats of other brands.
The cup holder is not so sturdy and does not have any stroller cup adapter to attach separate cups.
The peek a book window of the canopy does not have a cover and the window is positioned on top of the canopy so sometimes when you extend it the window goes all the way to the front and you cannot see the baby properly while running.
The seat does not recline flat. Thus it may not be comfortable for younger children.
The 3D air mesh on the seat is well ventilated but not so bare skin-friendly.
Some customers complained about the inferior-quality of the stroller but usually that is one-off production errors causing defective products.
The stroller does not have any reflective accents so moving around with the stroller at night can feel unsafe in dark areas.
The Bottom Line
The Chicco Activ3 air jogging stroller is a good choice for parents that want to bring their baby along while jogging. The ride is comfortable as the flex-core suspension absorbs the shock in rugged terrain and the swivel wheel ensures easy maneuverability. If you are caught in the rain while jogging you can provide complete protection to your baby thanks to the extendable canopy. The large storage basket ensures that you can carry all the baby essentials while on the go.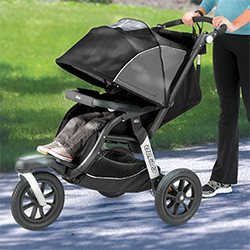 Being a jogging stroller, the Chicco Activ3 stroller is a bit on the heavier side and it has big wheels to keep it rolling. This does make loading it in the trunk of the car or moving it through an airport a bit more difficult. The Chicco Activ3 Air jogging stroller is at its best out on the road and parents can confidently use it to bring their baby along on their next jog or run.