The Bugaboo Lynx is a premium stroller that offers parents a very lightweight and compact design without compromising quality or features. This full-size stroller is easy to push and maneuver, which makes it a great choice for shopping in crowded areas. The multi-recline seat, extendable canopy and large storage basket add to the functionality of the stroller.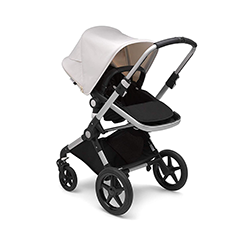 The unique feature of the stroller is that you can easily fold it compactly even though it has full sized stroller wheels. The large wheels of the stroller offer a comfortable ride and an easy glide in all terrains. The stroller is also car seat compatible, so parents can use it as a travel system for their newborn baby.
Key Features of the Bugaboo Lynx Stroller
Lightweight, compact and full-size luxury stroller.
Self-standing mechanism.
Suitable for newborns, infants and toddlers up to 50 pounds.
High maneuverability.
Made with aerospace aluminium so strong yet lightweight.
Large puncture-proof wheels that are highly durable.
Shock-absorbing suspension for a smooth ride.
Lightweight frame that makes it easy to carry.
Compatible with car seats of different brands.
Compatible with bugaboo wheeled boards for toddlers.
Three-position reclining seat.
The seat can be reversed in a forward-facing or rear-facing position.
Five-point harness for the baby's safety.
Foot brake near the rear wheels.
Adjustable handlebars.
UPF50+ extra-large extendable sun canopy with a peek-a-boo window.
Extra-large storage basket that can hold up to 22 lbs.
What Makes the Bugaboo Lynx Stroller Stand Out?
Functionality
The Bugaboo Lynx stroller is a lightweight and full-size luxury stroller that you can use from newborn to toddler. It works well as a travel system for newborns and is compatible with a range of car seats like Bugaboo Turtle One, Maxi-Cosi Mico 30, Maxi-Cosi Mico AP, Maxi-Cosi Mico Max 30, Maxi-Cosi Mico MAX Plus, Nuna Pipa, & Nuna Pipa Lite. Parents like that they can easily fold the stroller to a compact size and load it in and out of the car.
The Bugaboo Lynx stroller has a three-position recline seat for the comfort of the baby. Also, the extra-large UPF50+ canopy provides good protection to the baby from the sun. For parents, the stroller has an extra-large storage bag under the seat that can carry up to 22lbs.
Ease of use
High maneuverability is one thing that really makes this stroller stand out from the rest. Thus, you can easily push this stroller through crowded shops or city roads. When you do encounter bumps, the suspension on the wheels ensures a smooth ride for the baby.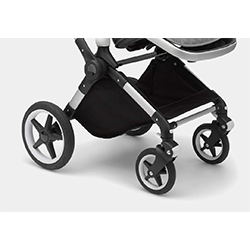 Another feature of the stroller that adds to its ease of use is foldability. You can easily fold the stroller without removing the seat and place it in a self-standing position. Unfolding the stroller is also very easy. The seat can easily be reclined using the lever attached. When using the Bugaboo Lynx as a travel system, the car seat can be easily attached to the stroller using an adapter.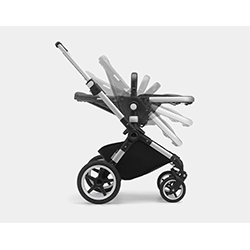 Material
The stroller is made of aerospace aluminium that makes it an exceptionally sturdy structure even though it is lightweight. The high-quality fabric used as the upholstery is easy to maintain. Once it gets soiled, all you have to do is to wipe it with a damp cloth or mild soap and warm water. The puncture-proof wheels provide good grip and offer a smooth ride on all terrain.
Moreover, the stroller is available in eight attractive color combinations – Alu/black, Alu- black/ fresh white, Alu- Blue melange, Alu- grey melange, Alu – light grey, black, black/grey melange, and steel blue.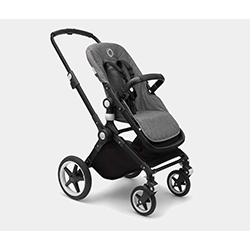 Dimension
The surprisingly compact dimensions of this full size stroller is 34.45" H x 20.87" W x 12.2"L, and the one-piece fold self-standing dimension is 23.62" H x 23.62" W x 34.65" L. The stroller weighs just 20.7 pounds and can carry a child weighing up to 50 lbs. The front wheel is 7" and the rear wheel is 11.4" in size.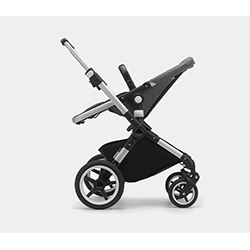 Assembly
As a premium product, Bugaboo has put a lot of thought into making sure that this is a very easy to assemble stroller. Parents need not have any technical expertise nor any special tools for assembly. The entire assembly can be done in less than 10 minutes, and if necessary parents can get help from online videos and the instruction manual.
Parents can also easily reverse the seat from forward to rear facing with just the press of a button.
Cleaning and maintenance
Cleaning the aluminium frame is rather easy. All you have to do is wipe it down with a cloth. The upholstery is made of high-quality material that can be cleaned using a mild soap and warm water as necessary. The wheels require occasional washing to get rid of dust and dirt, and after cleaning be sure to towel them dry completely. Lubricating the wheels after cleaning helps to ensure that the ride is smooth.
Additional features
The Bugaboo Lynx stroller has an easily reversible seat, so parents can adjust it to face the back or to the outside world depending on your preference.
Moreover, the stroller is also compatible with a Bugaboo wheel board. Parents can fix the board onto the back of the stroller and convert it into a stroller for two kids. The older child can ride behind comfortably on the board.
Final verdict
Families that invest in the Bugaboo Lynx get a premium full-size stroller that navigates and maneuvers like a jogging stroller, folds up small like a compact stroller, and comfortably transports your child from their first day until they are ready to run beside you. Overall it is a marvelously well designed and assembled product that earns some of our highest marks.

Available in eight colour combinations with aluminium and black as the base color.
Lightweight stroller that makes it easy to lift in and out of the car.
Compact footprint that offers high maneuverability.
One-handed steering that offers ease of use.
Self-standing when folded adds to its functionality.
Compatible with car seats of different brands like Maxi Cosi, and Nuna, besides the Bugaboo Turtle One.
Can convert the stroller for two kids by attaching the Bugaboo wheeled board.
Reversible seat that can be adjusted as front or rear-facing as per the baby's requirement.
The seat reclines to a flat position. Thus, you can easily accommodate a newborn in the stroller.
Five-point harness that ensures the safety of your baby.
UPF 50+ fully extendable large canopy that provides complete protection from the sun.
Peek-a-boo window on the canopy that lets you keep an eye on the baby and ensure better airflow.
Open-ended storage basket that makes it easy to bring along all of baby's essentials.
Handlebars can be adjusted according to your convenience.
Ride smoothly on all terrain including grass, and cobblestone.

Price is premium when compared to other full size strollers.
No parent or child tray and cup holder.
No extra pockets for storing small items like wallet and mobile.
Though compatible with a bassinet, it needs to be purchased separately.
The car seat and adapter for attaching the car seat needs to be purchased separately.
The stroller does not come with a wheeler board. To accommodate a baby and a toddler, you need to purchase the wheeler board separately.
Seat recline is limited to three positions.
Some reviews state that the written instructions that came with the stroller are not clear, however Bugaboo has put up the assembly instructions in their Youtube channel which is very helpful.
The Bottom Line
The Bugaboo Lynx stroller is an incredible, all-terrain stroller that comes with market leading features like a reclining seat, extra-large sun canopy with UPF 50+ protection, and a large storage basket. The large wheels and suspension provide a smooth ride even when there are bumps in the road. The three-position recline of the stroller makes it the right choice for newborns, infants and toddlers. Families can easily attach wheel boards or car seats of different brands and models to add to its functionality.
The Bugaboo Lynx stroller delivers full features while staying remarkably lightweight. The light weight combined with the extra compact fold makes the stroller easy to bring along and pull in and out of the trunk. Families on the lookout for a lightweight, all-terrain stroller that can be steered easily with one hand should consider the Bugaboo Lynx.